Facebook has dropped some exciting news for content creators, especially those who deal with video content. A new feature, "Smart Crop" is taking stage which will allow creators to re-purpose their video content. This is going to very useful for testing different edits without much hassle.
The feature had gone through testing phases earlier this year in March. Now, the Smart Crop feature is going live and can be accessed with Creator Studio.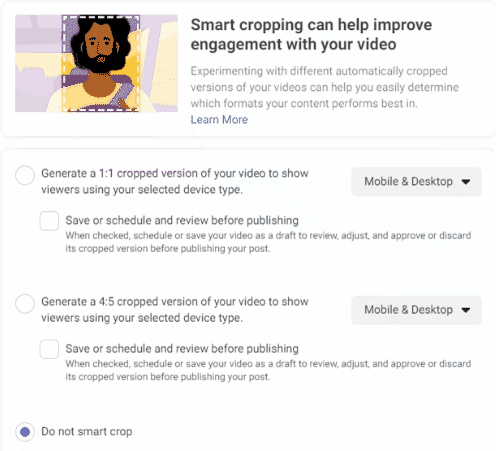 Smart Crop utilizes machine learning algorithms to identify parts of the video that are of interest to the viewers. Then, calculations are made for optimal editing. Once the calculation is done, the auto-edits are carried out.
Read More: Facebook Won't Take Any Shares from Creators Until 2023
The feature also allows users to create 1:1 and 4:5 versions of video content with automatic edits done in respect to focus elements to fit the ratios. In Facebook's own words,
"Smart Crop will optimize for the main subject in the content, keeping the main subjects centered and in-frame. You will be able to publish this video directly within Creator Studio and can review the reframed video prior to publishing. You can also compare the reframed version with the original prior to publishing to decide which version you'd like to publish."
The technology behind the feature is similar to that used in video calls. The core aspect of this technology is object recognition. Zoom-ins, zoom-outs, ratio changes, shortening, and widening of clips, etc. are done automatically as objects of interest are recognized within the video.
As with any automatic recognition and editing technology, the feature will probably not produce the perfect results every time. Still, the Smart Crop feature is going to be a huge timer saver for a lot of content creators, particularly those who routinely upload less complex videos.
The Smart Crop feature can be accessed in the "Upload Video" component within the Creator Studio.