Samsung Tries to Shift iPhone Users with iTest

2

min read
One of the greatest debates among smartphone users happens to be the superior option between Android and iOS. Among the many brands that use Android, none is as daring and popular as Samsung. In their latest bid to outshine their competitor, they came up with a gutsy app. Their latest invention allows iPhone users to experience their competitors' interface through their device.

Read More: "Food and Grocery Delivery Services" – Possible COVID-19 Frontlines?
Samsung has gone to great lengths to ensure that iPhone users can effortlessly partake in this experience. All they have to do is scan a QR code through their phone on Samsung's iTest website.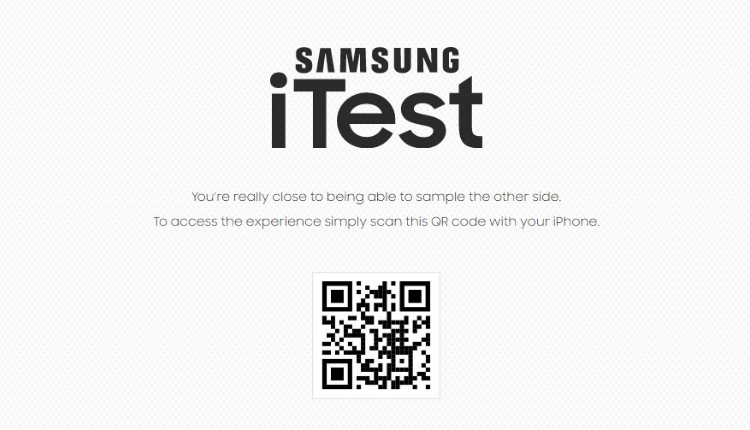 Once you add it to your home screen, you can click on the app to begin the process. A clever central button will greet you with the message "Click to Experience the Other Side". All it will take is one click and you will be seeing your iPhone in a new light. The app will convert the device into a semi-functional version of an Android phone.
Read More: Robi Axiata Limited | A Year-End Performance Review
You will get to experience a home screen that is uncannily similar to that of the Samsung Galaxy S21. As Samsung's UI overlays the iOS, it will introduce you to various helpful ticks. Over time, you will receive various texts and phone calls which will bear instructions to give you an enjoyable Android experience.
Read More: Food Advertising Policies To Be Reformed: Doctors And Nutritionists Prohibited In Food Advertisements
Excellent addition to this interface experience is the workability of various apps. Samsung's homegrown apps like "Galaxy Themes" allows you to customize your phone with various aesthetics. Although you can't download any apps in this mode, there are many games that provide you with featured videos.
Samsung pulled off a cheeky jab at Apple by allowing users to access Fortnite and Xbox games pass with this app. It is quite well-known that Apple doesn't allow its users to access these features, making the wounds fresh.
What are your thoughts on Samsung's latest app? For more information, visit Markedium!