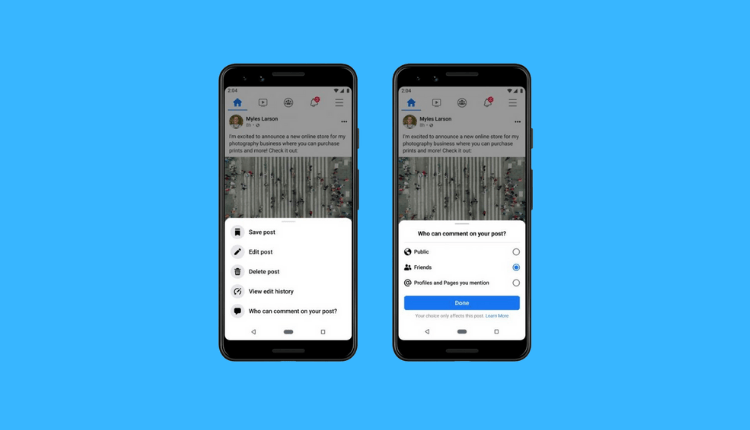 Facebook's Latest Features Tightens User's Grip Over Privacy Controls

2

min read
One of the greatest concerns among social media users in recent times is safety and data control. Facebook has been making significant strides to make the experience customizable privacy-wise for users. Its latest feature is progress in that direction that fortifies account safety. Their controls have now expanded from personal accounts to newsfeeds. Users now have the privilege of deciding who can comment on their public posts as well.
Read More: Samsung Tries to Shift iPhone Users with iTest
As public posts allow users outside a person's friend list to see their posts, this feature will be quite helpful. Having the authority to restrict comments on these posts will users avoid experiencing unsavory comments. With cyberbullying on the rise every day, the integration of this option is a step on the right path. As its policy, Facebook ensures a user-friendly interface with this tool and grants users full customization.
Here is how this feature works:
Click on the drop-down menu on the top-right corner
Select Settings & Privacy
Then, select Settings
Click on Public Posts placed on the left
Go to the option of "Who Can Follow Me" and make sure to select the 'Public.'
Click Edit next to Public post comments.
Now, select who you would want to allow to comment on your public posts. You can choose between Public, Friends, and Friends of Friends.
Read More: "Food and Grocery Delivery Services" – Possible COVID-19 Frontlines?
The integration of newsfeed customization means that users can prioritize and see only the contents they want. Adding this tool further helps amplify user freedom alongside the "Favorites" option. Integrating the newsfeed filter option, therefore, lowers the existing restrictions and organizes the content for the client algorithmically.
What are your thoughts on Facebook's latest feature? For more updates, be with Markedium!