Robi IPO Subscription Starts Today

2

min read
The subscription process of the country's biggest IPO begins today. From today, the investors will be able to bid for the shares of Robi-Axiata. The process will continue till November 23. Investors maintaining the category of general & eligible investors and non-resident Bangladeshis can bid to have a piece of the shares.
Robi is going to raise Tk 523.79 crore from this initial public offering which overtakes Grameenphone's Tk 486 crore raise in 2009 from the capital market.
Robi had an EPS of Tk 0.04 in 2019 which is not up to the mark at all. Usually, brokers or investors don't show that much of an interest in companies that carries a lower EPS, but this is seemingly not the case for Robi. Most investors and analysts have shown positive interest regarding the Robi IPO as this might help to boost the confidence of the overall capital market.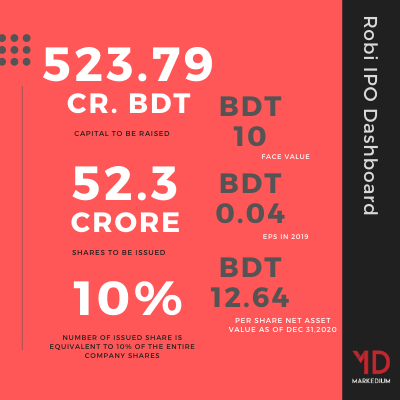 However, Robi is making available a huge number of shares which might have an impact on the secondary market in the upcoming years. Robi will issue a staggering 52.3 crore shares which are equivalent to 10% of the entire company shares. The face value is BDT 10.
The company's per-share net asset value was Tk 12.64 as of December 31, 2019.
 At first, Robi will raise Tk 136 crore from the stock market by giving 13.6 crore shares. The excess Tk 387.74 crore would be raised by giving out a further 38.77 crore shares.
Among the remaining 38.77 crore shares, approximately 19.39 crore will be issued to the general investors and 15.44 crore shares are allocated for the eligible investors. The rest will be issued to the NRB investors.
Having said that, the investors will have to wait a bit longer to gain profit due to the lower value of EPS. However, Robi's recent growth in the market also provides a ray of sunshine for the investors. Here are some of the recent notable stats of Robi:
This year in October, Robi reached the milestone of five crore subscribers which provides an indication of the operator's growing domination in local market.

Robi was the first one to launch 3.5G services in Bangladesh.

The company launched 4.5G services nationwide in 2018.

In Bangladesh, Robi was the first operator to test 5G service on its network.
As it stands, Robi will be using the raised capital to expand the operator's revenue generation opportunities in the fields such as Network Development and IOT, and many more.
For more updates, be with Markedium.