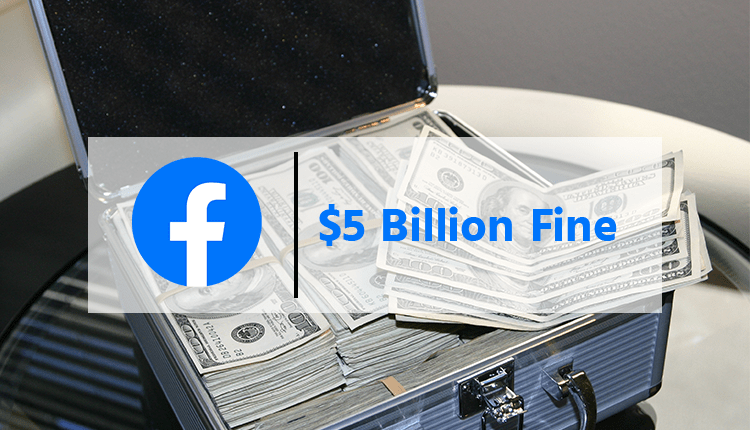 Facebook's $5 Billion Fine: A Tap on the Wrist?

2

min read
Facebook has made history yet again. But this time, it's not for the right reasons. Facebook has recently been slammed with a $5 billion fine by the US Federal Trade Commission (FTC). The fine came about after last year's allegation of privacy misconduct in the Cambridge Analytica debacle.
This is the largest amount in the fine that any technology company had to pay, surpassing Google's $22 million in 2012.
Facebook got into the FTC's scrutiny over mishandling user's information and privacy violation allegations. Although both Facebook and the FTC has remained without commenting, sources state an unnamed individual involved in the whole issue.
The matter was voted upon in the party lines as the Republicans were in favor of the amount of fine imposed. On the other hand, the Democrats opposed the penalty imposed by the FTC, according to reports. Senator Blumenthal, a Democrat from Connecticut mentioned that the $5 billion fine imposed on Facebook was barely a tap on the wrist. He further mentioned that the amount is "chump change" in comparison to the blatant violations that the company performed.
Nuala O'Connor, President, and CEO of the Centre for Democracy and Technology expressed her frustration regarding the fine as well. She emphasized on clearer and stronger rules in order to protect the privacy of the users.
After the [simple_tooltip content='Cambridge Analytica Ltd was a British political consulting firm which combined data mining, data brokerage, and data analysis with strategic communication during the electoral processes. It was started in 2013 as an offshoot of the SCL Group']Cambridge Analytica[/simple_tooltip] debacle erupted propelling FTC investigation, many more controversial topics surfaced as well. Facebook was found guilty of sharing user information with top companies such as Amazon and Yahoo. On the other hand, reportedly, Facebook was also involved with President Donald Trump's 2016 campaign securing information from around 87 million users.
Although the fine seems hefty in many people's eyes, it will merely be a scratch for Facebook's financials. The company generated $58 billion in revenue alone last year and is expected to generate $69 billion this year.
The point to focus alongside Facebook's $5 billion fine is what additional restrictions and further strict scrutiny that the company will have to face in the coming future.