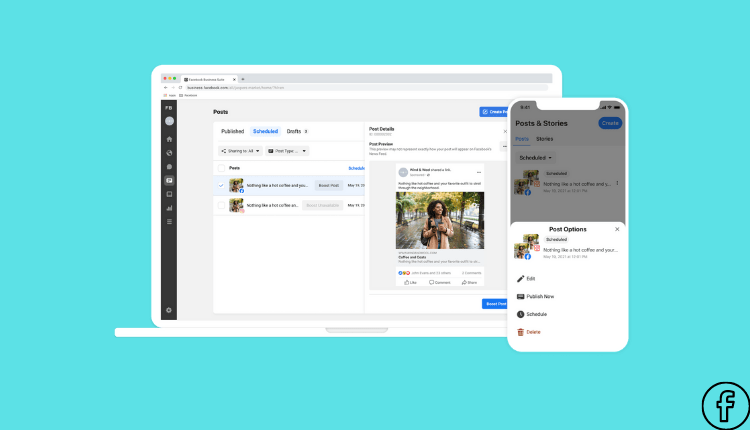 Facebook Introduces New Business Suite Features

3

min read
Facebook has introduced some new features in its Business Suite to make it easier for the owners to create and schedule content. With Facebook Analytics to be unavailable from this July, the social media giant is certainly giving more and more focus on Business Suite to make it a one-stop solution for the creators.
For the unacquainted, Facebook Business Suite is a center point of tools and resources to deal with the social media presence of a brand across Facebook, Instagram, and Messenger. The new highlights would help social media supervisors schedule Stories, edit scheduled posts, and oversee albums.
So, without any further delay, let's have a look at the new features:
Read More: Latest Social Media News: Last 15 days Overview
Edit Scheduled Posts
Users would now also have the opportunity to edit scheduled posts in an efficient manner through the suite. To edit and make changes to a scheduled post, you just need to do the followings:
Open the 'Posts & Stories' tab on the Business Suite on mobile or desktop
Click on 'Scheduled Posts'
Select the post to be edited
Click on 'Edit Post'
Save changes
Users can now also preview the saved changes of the edited post and other scheduled posts in the 'Calendar' section of 'Posts & Stories'.

Post & Schedule Stories
Social media managers can now create, publish and schedule stories on Facebook and Instagram through the Business Suite. This is available for both iOS and Android users. Managers can simply use the feature by clicking on the 'Create Story' option on Home, or by navigating the 'Posts & Stories' tab.
Read More: Facebook's Latest Features Tightens User's Grip Over Privacy Controls
Coming Soon | Save Posts in Drafts
Facebook is about to make Business Suite more fun for all those creative ideas that come on the fly. Users will soon be able to create Facebook and Instagram posts to save as drafts. How? Just do the following:
Create a post or story from the Home screen, or by heading to the "Post & Stories" tab.
Once you are done making the posts, choose "Save as Draft" to come back to it at a later date.
Coming Soon | Create and Manage Albums
In the upcoming coming weeks, users will be able to publish and manage all of their Facebook Photos and Albums from Business Suite by navigating to the "Posts & Stories" tab.
Facebook is working relentlessly to introduce tools and resources that make life easier for all the creators around the world. Since we can assume that Facebook is completely focused to make Business Suite the center of all business activities for the users. Hence, you should learn more about how to manage your online presence with Business Suite.
For more updates, be with Markedium.