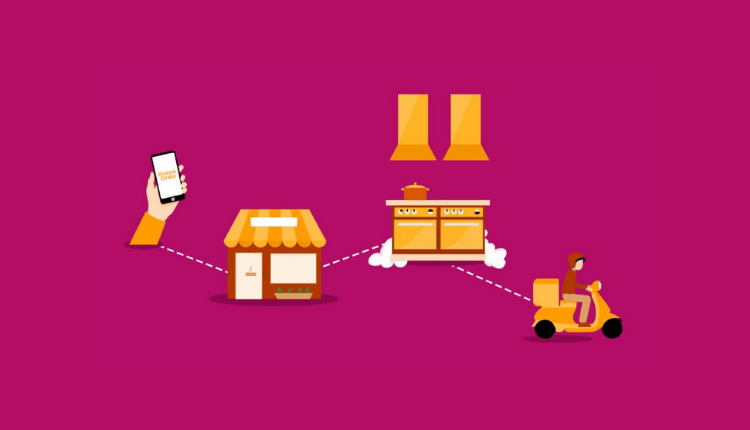 Cloud Kitchen: Making Food Efficient

4

min read
The food and restaurant industry is on a consistently upwards trajectory as the 21st century continues. People nowadays are becoming more health-conscious while also craving fast service and comfortable dining. Therefore, out of the many eatery options currently available globally, none have become as rapidly famous as cloud kitchens.
Intrigue is something that many people experience while thinking about cloud kitchens. Despite not having a physical location, it still holds an excellent reputation while providing delicious food. Therefore, our article today will help you find out about all of its secrets. Continue reading to discover how this model came to be and how they have achieved peak efficiency.
When Food Went Viral
There are two reasons that are mainly responsible for the sudden boom of cloud kitchens worldwide. The first factor is the shift in the global economy, and the second one happens to be millennials. In 2008, the world fell into despair due to an economic recession. Therefore, restauranteurs and individuals in the culinary realm needed a more affordable model. It was at this time that they found their solution in cloud kitchens.
On the other hand, millennials were becoming the major demographic as restaurant-goers. Their habits included healthier options and home delivery as the cornerstones. As maintaining eateries in prime locations got easier, having seating arrangements also became unfeasible. Therefore, both issues practically signaled the rise of cloud kitchens.
Cloud kitchens are essentially restaurants that do not have any physical locations. There are no seating options, and in most cases, it's just a kitchen in an apartment. Globally, Green Summit Group was the first movers in this business format. However, similar tactics have been present from a long time ago, especially within pizza chain restaurants.
Bangladesh's relationships with cloud kitchens started with the help of food review groups on Facebook. Among all the different cloud kitchen brands in the country, the most noteworthy one is Kludio. Since the introduction, this organization gave birth to many memorable names, including Dough on the Go. It's got multiple restaurants under its belt, each of them serving its unique cuisine. Furthermore, it served as a launching pad for many food entrepreneurs by providing them various forms of support. So far, it has raised as much capital as USD 500 million and has enveloped most of Dhaka city. Although cloud kitchens have recently entered the Bangladeshi scene, Kludio is a beautiful testament to its potential.
A Step Apart
Cloud kitchens are a popular pick among newcomer restauranteurs these days mostly because of their versatility. There are a total of 6 different models that will allow you to run such an establishment effectively. A brief description of each of them are as follows;
Independent Cloud Kitchens: The original model, this version consists of a single brand operating from a kitchen. Its entire size is comparatively smaller than other models or commercial alternatives. Moreover, it's also a great way to start your own establishment from your home.
Multi-brand Cloud Kitchens: Establishments that houses more than one brand in a single kitchen space are called multi-brand cloud kitchens. Apart from different entities, this model is also capable of producing versatile cuisines. It also typically has multiple outlets despite not having a storefront. It's an excellent method for monitoring consumer behavior which also allows effective strategic outputs.
Hybrid Cloud Kitchens: Brands that have both dine-in and home delivery options follow the hybrid cloud kitchen model. They are relatively larger in size compared to other models. Currently, most restaurants in Bangladesh have this format.
Fully Stacked Cloud Kitchens: Fully stacked cloud kitchens basically function like shell corps. The best way to understand this model is to imagine an entire space with multiple small units. Each unit is occupied by one brand. Many restaurateurs prefer this layout for its cost-effectiveness.
Fully Outsourced Cloud Kitchen: The first glance at this type of model can seem confusing as it essentially looks like a call center. All of the food-producing processes are outsourced to third parties. Establishments merely take orders and delegates the process from preparing to delivery.
Shell Cloud Kitchen: This model is the most minimal option. It features nothing more than a minimum infrastructure and support for operating a cloud kitchen.
An Affordable Strategy
Cloud kitchens are gaining more popularity among investors simply because of all the costs they can cut. Its inventory system is relatively effortless and inexpensive. Furthermore, brands do not have to worry about interior maintenance and dining options. Their marketing is done solely through online platforms and social media. Labor cost is also relatively low as workers include chefs and delivery men.
However, the hard task is to maintain the whole process smoothly with proper care maintaining the health standards.
An innovative restaurant model with huge potential and scopes, and the future of the restaurant industry may be. What are your thoughts on cloud kitchens?
For more updates, visit Markedium!