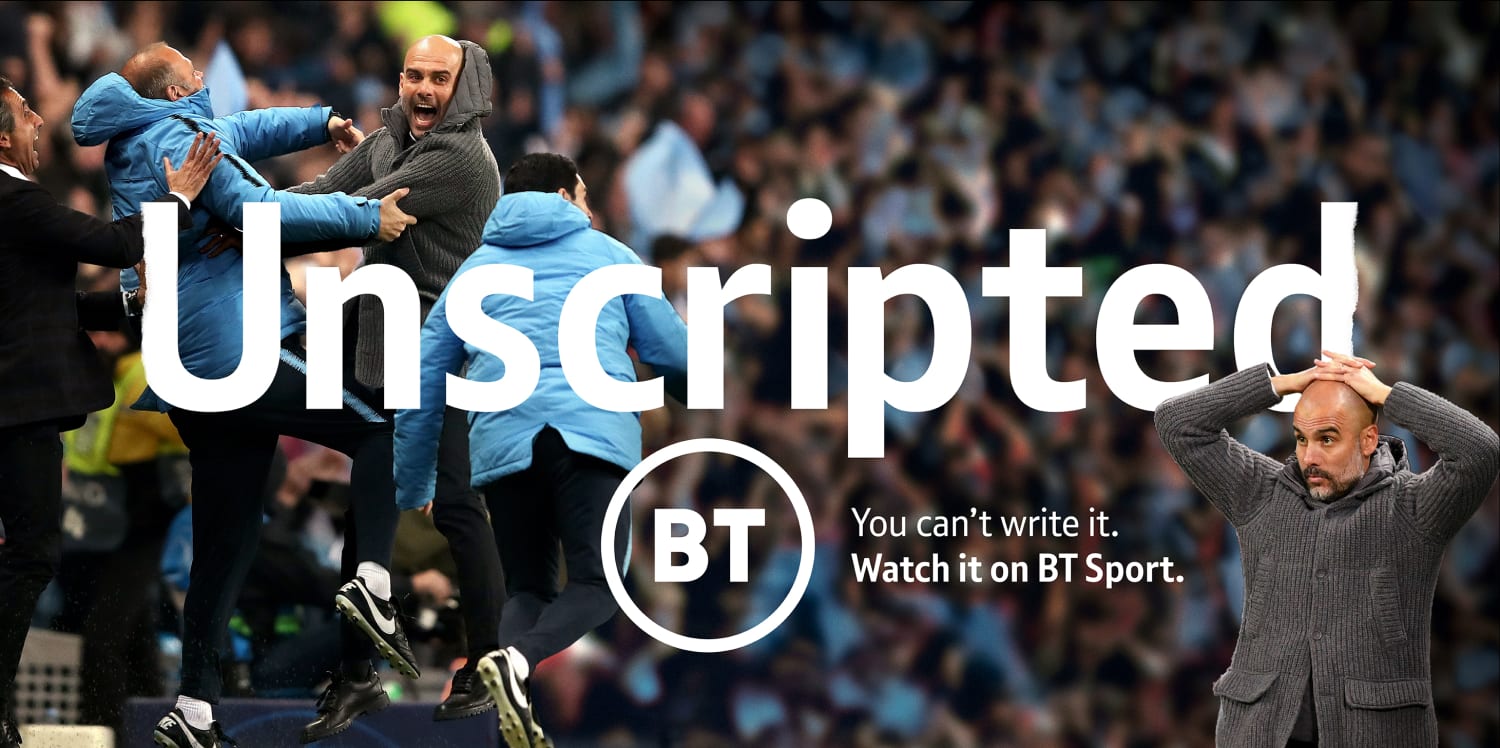 Case Study | How BT Sports Celebrated Football's Beautiful Unpredictability – With Data

2

min read
Challenge
As BT entered their seventh season in the battle for football audiences, their main rival Sky Sports continued to be considered the home of LIVE football.
The challenge for Wunderman Thompson was to take on and defeat BT Sport's fiercest competitors in the contest for subscriptions. Given BT Sport in 2019 held exclusive rights to the Champions League Live matches, the agency needed to inspire the football community to talk about nothing other than BT Sport's new season. The catch? Spend 75% less than the previous season.

Inspiration
The beautiful game is remarkably unpredictable and season after season the Champion's League has been the ultimate spectacle for football fans all over the world – the agony, the ecstasy, the incredible highs, and the unbearable lows. Over and over, live football proves completely unpredictable. You just couldn't write it…or could you?
Idea
Wunderman Thompson revealed Unscripted, a campaign based on a script for the new football season. Written using AI and in collaboration with BT, Wunderman's team commissioned the biggest brains in sports data, analytics, and machine learning to write the first AI-inspired script of any football season anywhere on the planet.
Before a single ball had been kicked the agency and brand team fuelled the debate among players, pundits, and most importantly the fans themselves, proving that while you can't always script football, you can most definitely watch it live on BT Sport.
Growth
The Unscripted campaign resulted in  a tremendous amount of coverage all over the world, gaining 137 million media impressions across 44 countries.
But the most inspiring outcome was that Unscripted grew subscriptions for BT Sport like never before, signing up an incredible 100% more fans than the previous season.
Credits
Brand: BT Sport
Campaign: Unscripted
Advertising Agency: Wunderman Thompson, UK
Chief Creative Officer: Steve Aldridge
Creative Directors: Christopher McKee, Richard Morgan
Executive Creative Director: Lucas Peon
Chief Client Officer: Matt Steward
Managing Partner: Andy Lane
Head of Strategy: Marcus Reynolds
Designer: Colin Smith
Business Directors: Joe McGlynn, Phil Watson
Senior Account Manager: Natalie Wilson
Producers: Sara Blackett, Greg Nicholls
Film Producer: Jonah Werth
Project Managers: Steve Hedge, Cathy Mears