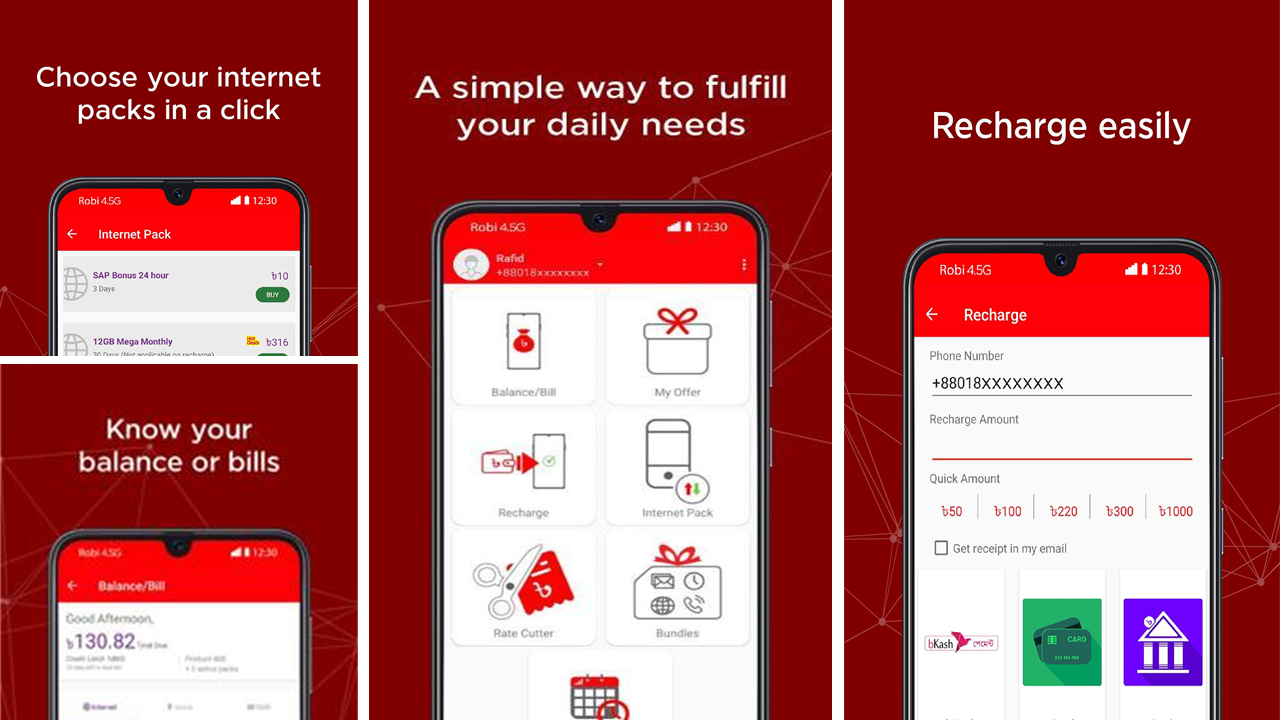 App Review: My Robi

4

min read
Bangladesh is a booming economy with over 75 million internet users. With the advent of technologies, the days of going to a restaurant to bring takeaways or eat (Foodpanda?), the need to wait for a CNG to arrive (Pathao?) or the need to go to your nearest retailer to recharge your mobile balance, are long gone due to the numerous services currently available to the customers.
I am a very frequent user of some of those apps mentioned above and more, which brings convenience to my everyday busy life. But today I will talk about My Robi app which I surprisingly found to be quite useful. It serves as the daily driver to manage all my account needs on the fly. One of the major reasons behind my growing fondness comes from the option of managing my dearest people's accounts from the app. Recharging their mobile accounts have become very handy without requiring to go to nearby shops. Buying internet packs and voice packs have never been easier. My Robi app also brings in very lucrative packs for its users, especially the ones they call it Hot Deals, which really do save bucks on the wallet.
The recently revamped new version has a very vibrant look enabling to see all my balances in one view compared to the previous one that required unnecessary scrolling. The tab added on the lower part of the app is also a good touch making navigation faster.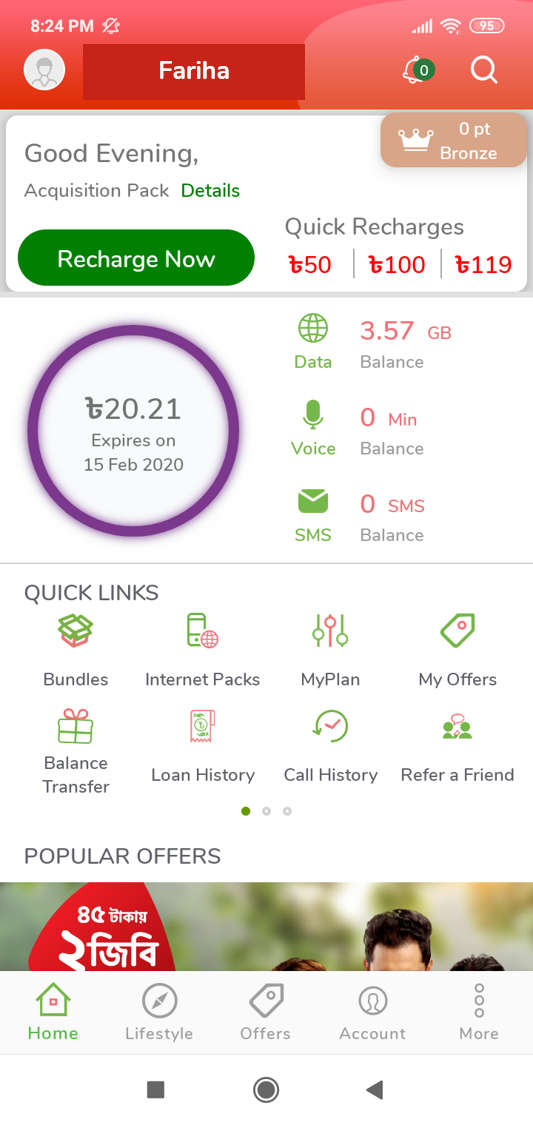 The lifestyle page within the app is a neat feature, the inclusion of Namaz timing has good utility since I do not need to download another app for seeing Namaz timings. There is weather, news, sports, travel & more which add value to my everyday life. But what is noteworthy is you don't necessarily have to go through this long listed page, you can filter and make it customized based on your personal choice as I did.
Things I Would Like To See Improved
Despite having a lot of features, the lifestyle page doesn't seem to have any structure and looks sort of tedious. The "What's New?" section comes after Weather, News, etc. ; which is a big turn off. Some sections like Games, Travel, or Shop lacks good content & creativity. Rather than exclusively featuring content that Robi wants to promote – "Bdtickets" or "Robishop", the focus could have been given to content that customer seeks – "Discount in Singapore Airline" or " 3N at Thailand for 35K" or "Free  Delivery from Daraz".
The creatives are neither interesting nor informative with just a topic over a background without any effort to engage customers.  In addition, I would personally love to see some entertainment elements such as high-quality content or games to give the app a little light-hearted vibe.
While looking for the referral option, I found the app is also offered in the Bengali language, which was thoughtful because the smartphone has penetrated all over the nation. People who are more comfortable with our native language can use the app as well. For users of lower OS smartphone users, they also have a lite version that I downloaded for the sake of this review only. It has the basic features like internet packs, bundles, recharge, call history only; also offered in Bengali.
However, the user interface and user experience could be a lot better, rather than just icons and services. To top that, a lot of new services that are essential in the current context is not present in the app like Loan Facilities, News, or even Gift.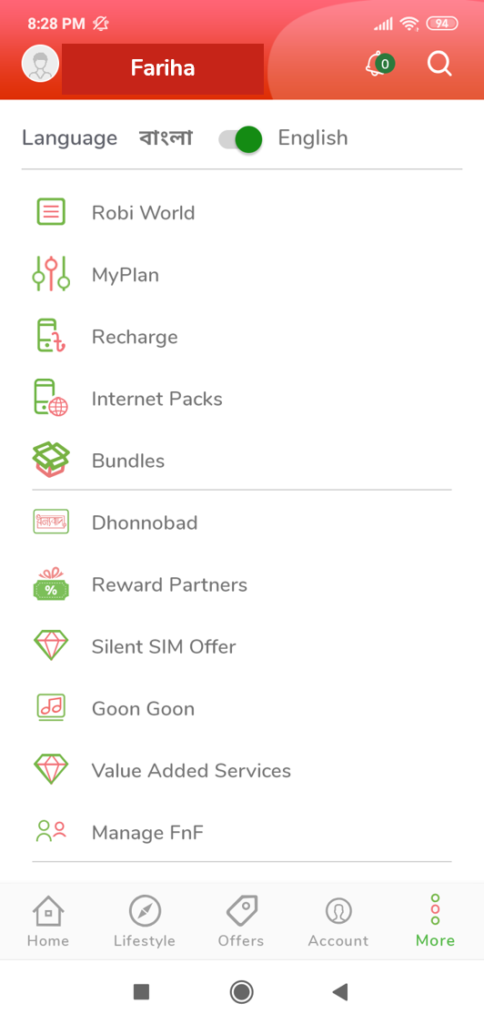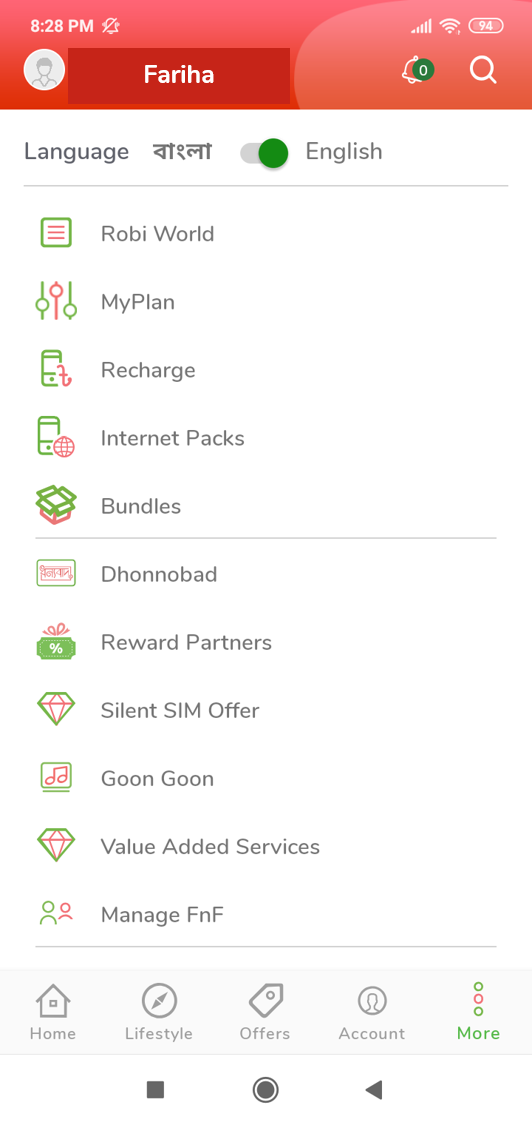 My Robi app has a lot more features, which if I am to write about, will make this article much longer! However, to name a few, you can check your Robi Dhonnobad status, see silent sim offers, ability to make your own plan, FnF management, activate roaming, view available 4G sites, contacting customer service and so on.
And before I end it, they are giving away 1GB for every successful referral, I already got mine, so if you are a Robi customer, why miss out on the few free GB? Just visit Google Play Store or App Store and search for the app!
Let me know about your thoughts on My Robi App and for more latest updates, be with Markedium.