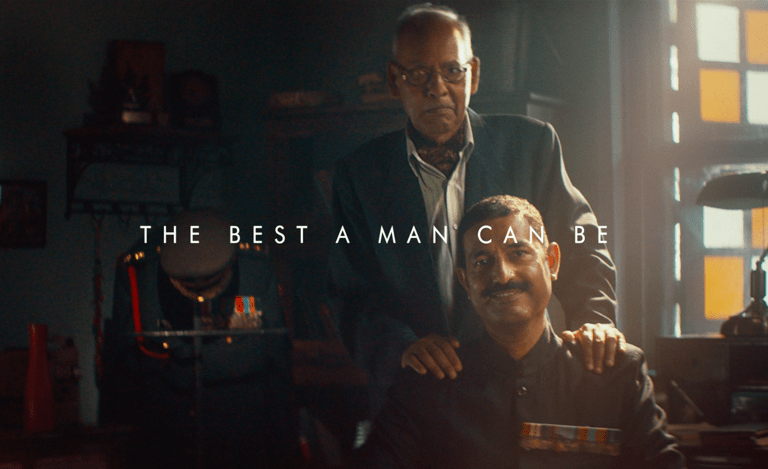 What makes a man, a Man? Gillette's all-new campaign takes us through the narrative journey of an individual.
Meet Lieutenant Colonel Manoj Kumar Sinha.
Winner of Sena Medal for his indomitable gallantry. A man who survived a bullet, yes, ladies and gentlemen, a bullet at the back of his neck in line of duty.
And the bravest man that he knows is his father. The father who taught him what it takes to be a real man. What is feels to carry the responsibilities of a real man. His father also taught him one important thing; Men do not cry. Lieutenant Colonel Sinha remembered this significant lesson all throughout his life.
Watch the campaign:
No matter how hard it gets, no matter how much pain he is going through, we men, we do not cry.
Even on the day he was hit with a bullet, he remembered what his father taught him. A gallant soldier in his own right, Lieutenant Colonel Manoj Kumar Sinha did not cry in pain or agony, nor did he cry seeing the misery of his family.
The Gillette India campaign made us shiver to the core of our bones when his father came to visit him, though. That day, his father did not forbid him to cry.
Read More: #ShavingStereotypes- Gillette's Latest Campaign Shows Us A New Way
Instead, his father hugged him, as they shed tears of joy, together. Maybe this is what takes to be a man?
Gillette India's latest campaign is all about shaving stereotypes, ladies and gentlemen. One of the biggest stereotypes that have been passed on generations is that it is a sign of weakness for men to cry. In fact, true courage and strength lie in showing vulnerability and weakness.
Read More: Men's Grooming – The Underdog of Beauty Industry.
Gillette India portrayed this exact message in their all-new campaign "Man Enough". Men are also human beings, and manhood is also a privilege. In celebration of this year's International Men's Day, let us all embrace and celebrate Manhood.
Let us know about your thoughts on Gillette India's this latest campaign!