Olympic Posted Staggering Profit Growth In 9M'22-23 After Dismal FY 21-22

2

min read
Olympic Industries Ltd., one of the leading biscuit manufacturers in the country, posted a profit growth of 42.5% in 9M'22-23 (July 22-March'23) compared to the same period last year. During the same period of FY 21-22, the company's profit declined by 35.6% compared to 9M'20-21 mainly due to disruption of the global supply chain due to the Ukraine-Russia war. Due to the war, wheat prices shot up significantly as both Russia and Ukraine are the leading suppliers of wheat in the global market. However, the global wheat price stabilized in FY 2022-23 and several shrinkflation initiatives of the company have helped Olympic Industries to post profit growth.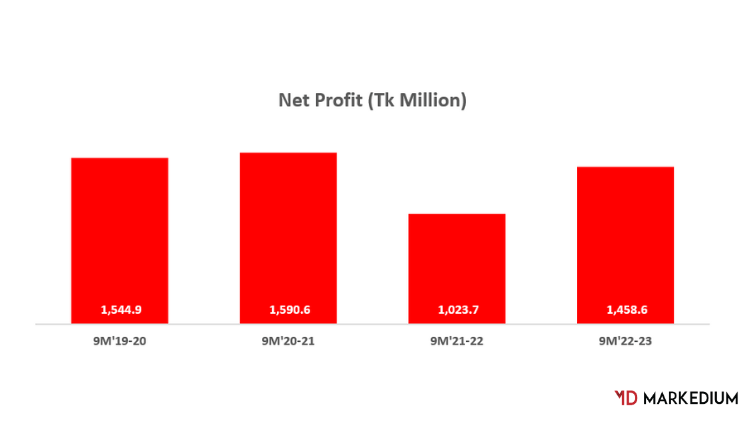 Olympic Industries also posted double-digit growth in revenue showing no slowdown even during the uncertain macro-economic scenario in the country. The company's revenue grew by 24.0% YoY in 9M'22-23 to Tk 19,788.5 million.
Read more:Reckitt Adjusting To The Post Pandemic World As Its Profitability Declined
Domestic sales drove most of the sales growth by growing 24.1% YoY to Tk 19,585.5 million in 9M'22-23. Export sales grew by 10.8% to Tk 203.0 million in 9M'22-23. Domestic sales of biscuits, snacks, and batteries contributed to about 99.0% of total sales.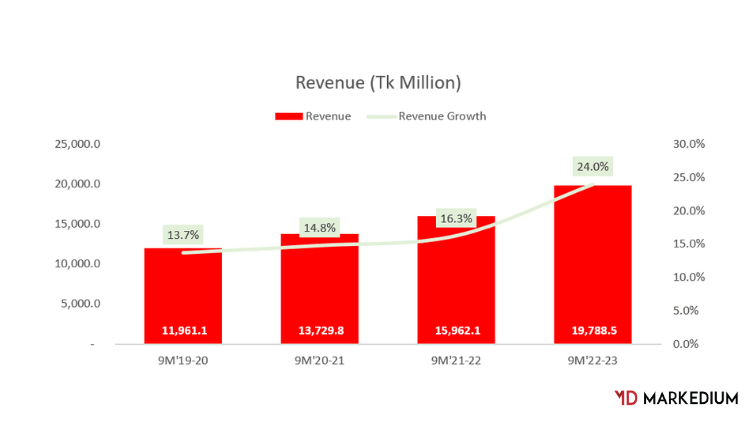 Gross profit also grew by 25.3% YoY as the wheat price stabilized and the company decided to apply shrinkflation strategies to fight inflation. Shrinkflation is the process of reducing the size or quantity of a product instead of increasing the price. To fight inflation, the company decided to keep the price ranges as before but the pack sizes or the quantity inside the packs changed. It has helped the company to increase its gross margin by 0.3% compared to the same period last year.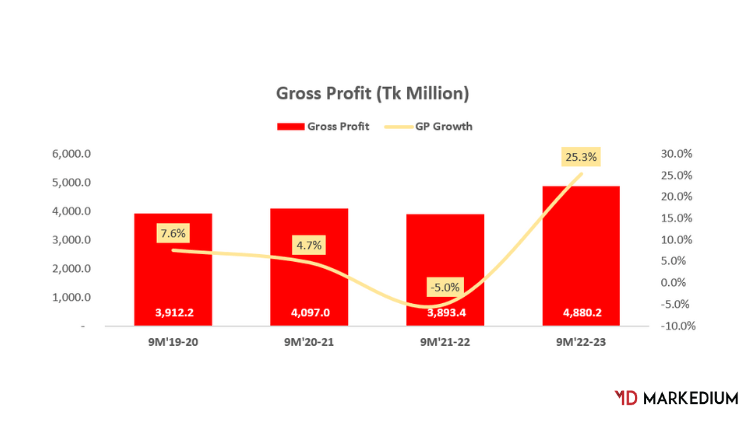 The company also focused on efficiency by reducing its administrative costs by 20.4% YoY to Tk 250.1 million in 9M'22-23. As a result, operating profit increased by 56.0% YoY to Tk 1,981.6 million. Hence, efficient raw materials and operational management helped Olympic to post a staggering growth of 42.5% YoY to Tk 1,458.6 million.
For more updates, be with Markedium.