Jack Ma Pledges Medical Supplies to Bangladesh and 9 Other Countries

1

min read
The world is plagued with the fear of the coronavirus. Thankfully yet, the corona hasn't hit hard most of Asia except for China. In a time like this, Jack Ma, founder of Alibaba, has announced in his twitter that his firm will donate 1.8 Million masks, 210k test kits & 36k protective suits to 10 Asian countries.
 See the tweet below: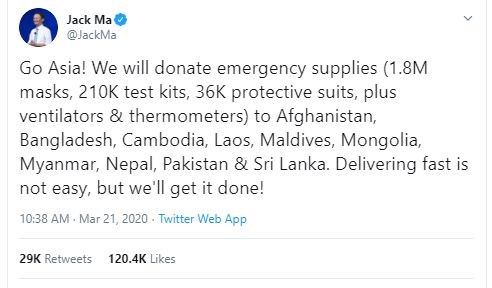 The 10 countries include most of South Asia including Bangladesh. However, the country list does not include India. Some have speculated that this may be because of the rising tension between India & China where India banned exporting medical equipment when China needed them the most.
Read more: Know Corona Bot By Analyzen.
Some have just discarded it saying a whimsy of an entrepreneur and not taking his personal choice as a means of diplomatic response. Whatever the case is, no one can deny that India is in the highest amount of risk with its huge population and apparent denial of community spread.
Jack Ma also pledged equipment to the US previously and urged everyone to work together internationally to help save the world. He shipped medical supplies on March 16 from Shanghai wishing America all the best on twitter. Jack Ma Foundation has also reached Italy with important medical supplies.
For more updates, be with Markedium.