Here's How bKash Achieved Major Profit Growth YoY In 9M'23

2

min read
bKash, the largest MFS provider in Bangladesh has posted a strong performance for the first nine months of 2023. According to the financial statements of the company, bKash posted a profit of Tk 881.0 million in 9M'23 which was only Tk 40.8 million in 9M'22.
Let's dive into how the company was able to post this spectacular result.
Double Digit Top Line Growth
In the first nine months of 2023, bkash posted net revenue growth of 21.9% YoY. bKash posted net revenue of 30,503.1 million in 9M'23 which was Tk 25,024.3 million in the same period last year. Net revenue in Q3'23 increased by 18.7% YoY from Tk 8,578.4 million in Q3'22 to Tk 10,184.3 million.
Revenue of bkash usually comes from cash out, airtime commission, and return from trust cum settlement accounts (customers deposit in bkash). However, segment-wise revenue distribution has not been shared in the recently posted financial statements.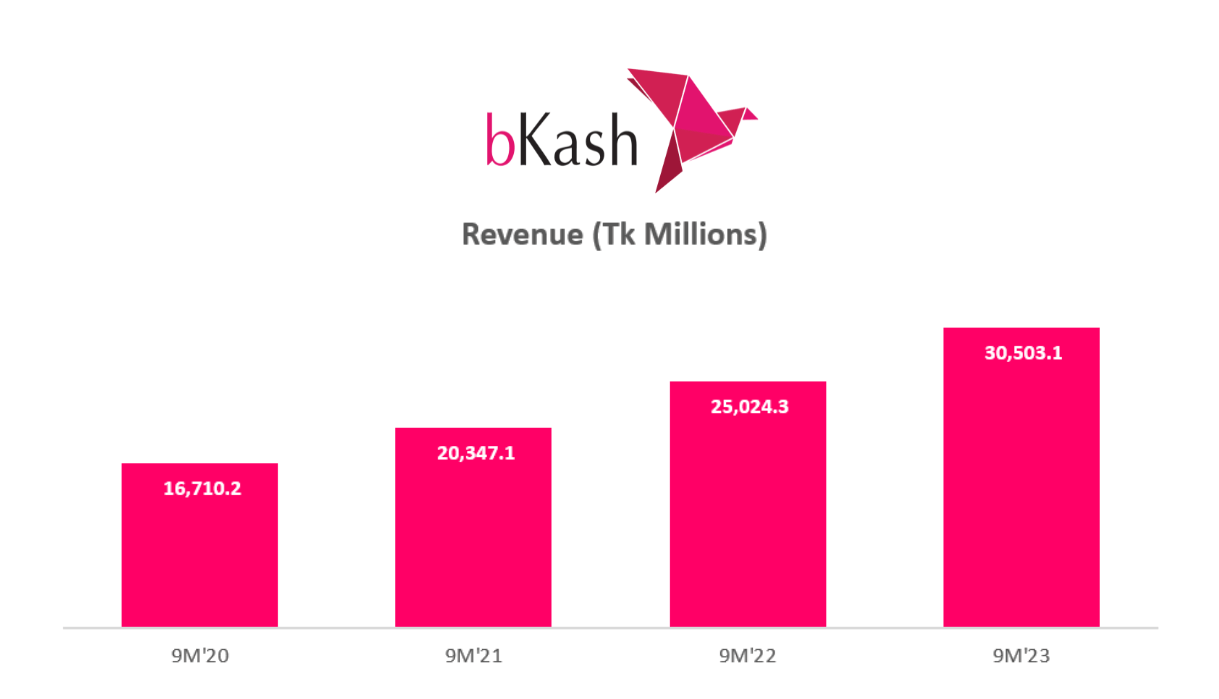 Increased Gross Profit Margin
Gross Profit of bKash increased by 35.7% YoY to Tk 9,086.4 million in 9M'23. Most importantly gross profit margin has increased from 26.8% in 9M'22 to 29.8% in 9M'23. The increase in gross profit margin is mainly due to the introduction of new services with higher profit margins.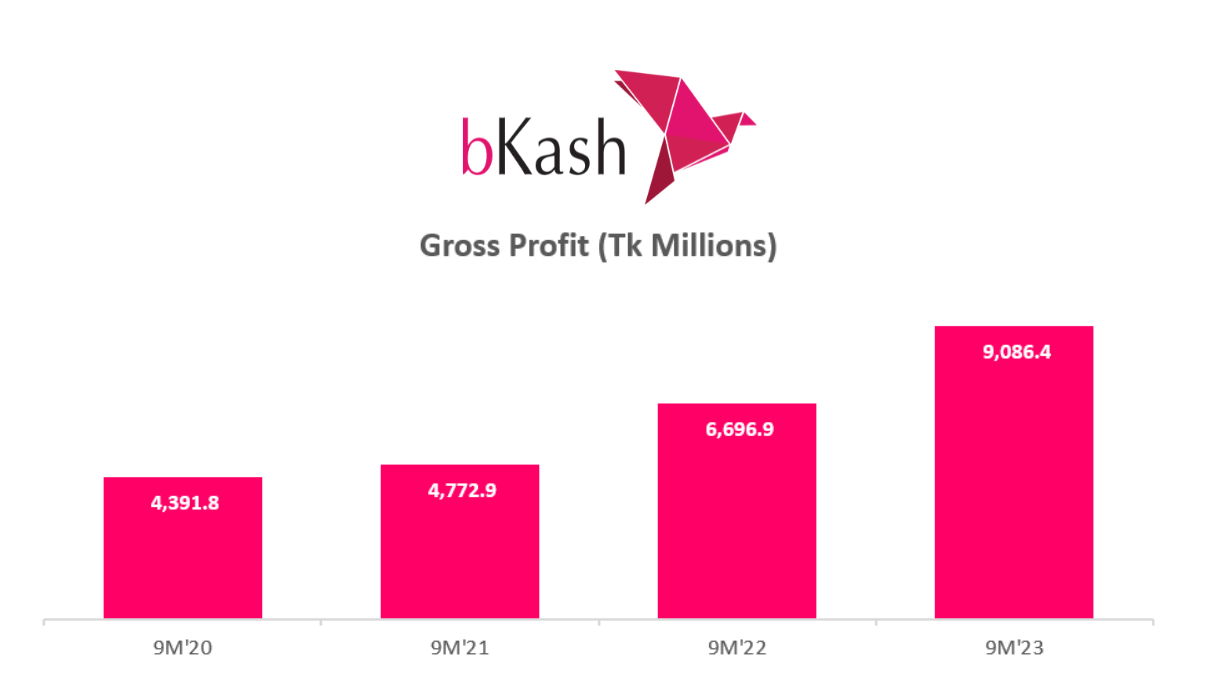 Higher Interest Rate Led to Higher Income
The business model of bkash depends significantly on the market's interest rate. Customers of bKash keep e-money in their accounts for future usage. Those customer deposits are then invested by the company mostly in Government Securities (T-Bill & T-Bonds) and in Banks.
As of September 2023, bKash had Tk 79,409.5 million of customer deposits which is the e-money in circulation.
Read more: Here's How Robi achieved 203.1% YoY profit growth in 9M'23.
The returns from the e-money in circulation are booked in the return on trust cum settlement accounts. The company also invested its own surplus money which is booked in finance income.
Net finance income is an important P&L item of bkash as it contributed Tk 1,224.6 million in 9M'23. Net finance income increased by 39.2% YoY which was Tk 88.0 million in 9M'22.
bKash was able to book higher net finance income mainly due to higher interest rates in the money market.
The increased profitability of the company is a testament to continuous investment in technology and product innovation by the company. Due to those investments bKash incurred losses for some years. However, it looks like the company with a more than 70 million customer base is moving in the right direction.
For more updates, be with Markedium.