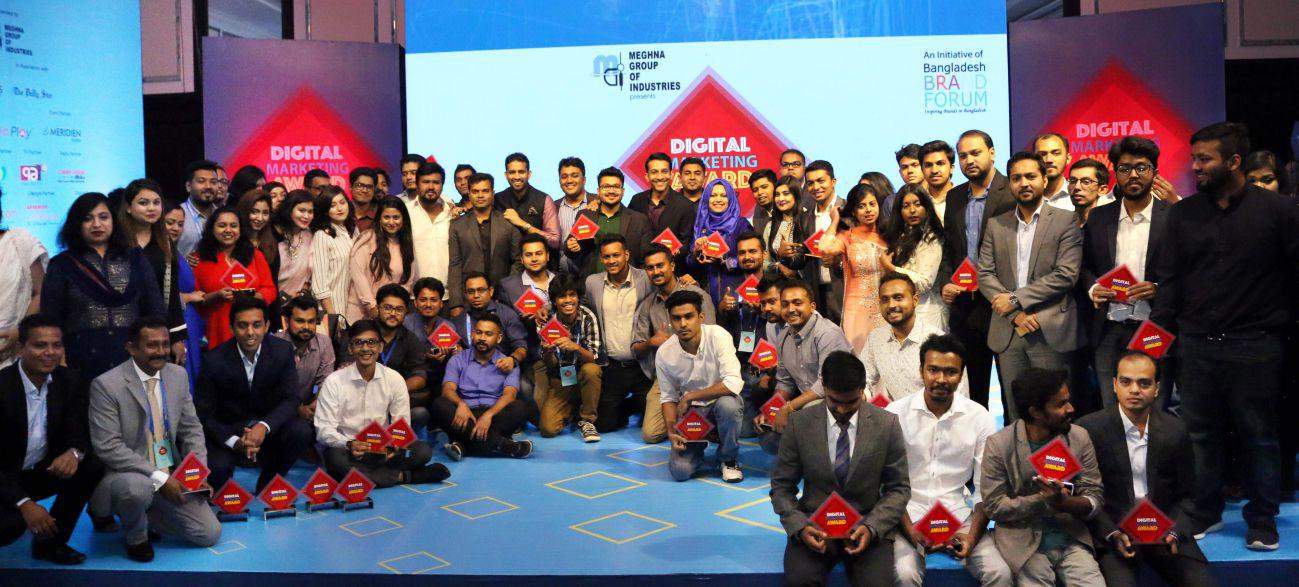 Digital Marketing Award 2017

2

min read
For the first time ever in Bangladesh, Bangladesh Brand Forum organized Digital Marketing Award 2017. A combination of creativity and goal oriented approach was the secret recipe for success. The most successful digital campaigns were awarded across 13 different categories.
The awards were segmented on the basis of the channels, platforms and mediums. Every award had 3 places: Silver, Glod and Grand Prix. The Grand Prix for the 'Best app' went to 'MyGP App.' Meena Bazar won the Grand Prix in the category "Best Use of Thata & Analytics" for their targeted conversion oriented campaigns. "Best Content Marketing" award went to 'Aynabaji the Movie' which was created by Melonades. "Bengal Meat Qurbani Haat" came up first for the 'Best use of E-Commerce Platform'. Since video is the best tool for digital marketing now their were special categories for video content too. 'Samsung- ShimianaPeriye 2" won the Grand Prix for 'Best Long Form Video'. Instagram is the second most popular social media platform in Bangladesh. 'Noir Clothing' conquered the category-'Best Use of Instagram'. 'Radio Shadhin 92.4 FM- ভাষা কি শুধুই শব্দে-Beyond Sound' came out victorious in 'Best Short Form Video' segment. 'Aynabaji the Movie' won another award for the 'Best Use of PR in Digital Platform.' Radiant Pharmaceuticals won the Grand Prix in 'Best Use of Mobile' for their Interactive Sales Aid campaign. Gaanchill Music have been creating great music for quite some time now. This was reflected in the award ceremony as they won the 'Best Use of YouTube' class for the footprint strengtaning efforts. 'Aynabaji the Movie' won their 3rd Grand Prix of the day for the 'Best Use of Facebook.' The final award of the day, 'Best Integrated Digital Campaign' award also went to 'Aynabaji- the movie" for their outstanding integrated promotional campaigns throughout the digital platforms which was their 4th  Grand prix for the night.
A grand total of 50 campaigns were awarded this year. The award brought the whole industry under one umbrella. The initiative was supported by Meghna Group of Industries. Digital Marketing is one of the most dynamic industry today where innovation happens every day. Many brands today are doing digital just because they have a budget for it. While some agencies are doing campaigns for winning awards. But every brand can get bottom line results if they leverage digital platforms in the right way. Agencies should concentrate on designing evermore target oriented campaigns. Even today, digital remains a buzzword in the corporate segment. Only the E-commerce sector has unleashed the potential of digital to some extent. Other industries like Finance and Banking are yet to uncover its vast potential. The awards showed us that we are capable of making amazing content for different audience segments. Hunger for good content is very prominent in our country. It is best reflected when we turn to foreign shows for entertainment. The awards were a testament to the dormant potential in the creative talents of this nation.