Banglalink's Revenue Grew By 6.9% In Q2'21

3

min read
Banglalink, one of the leading telecom companies in Bangladesh has recently posted its quarterly report for the period Apr'21-Jun'21. Revenue of the company increased by 6.9% YoY from Tk 11,082.0 Mn in Q2'20 to Tk 11,843.0 Mn in Q2'21. The growth in revenue is mainly driven by 15.1% YoY data revenue growth and 8.9% growth in data subscribers.
Revenue Analysis
Revenue increased by Tk 761.0 Mn mainly driven by 15.1% YoY growth in data revenue and 7.0% YoY growth in mobile service revenue. During the Q2'21 period, the government imposed a countrywide lockdown in April to curb down the infection rate in Bangladesh. Despite the lockdown, Banglalink achieved growth as it used digital channels to engage with customers.
Erik Aas, CEO, Banglalink said, "Banglalink succeeded to keep up its growth trajectory in Q2 2021 with solid performances in all segments. We registered a 6.9% YoY revenue growth, which was driven by a 15.1% YoY growth in our data revenue and 7% YoY growth in our service revenue. Most significantly, data use of our customers increased by a whopping 43.7% YoY in this quarter. Our customer-base and data customer-base also grew by 7% and 8.9% YoY, respectively. As a result of our efforts to encourage more customers to embrace digital facilities, Toffee saw a significant surge in popularity with its monthly active users base reaching 5 million. The third consecutive Ookla Speedtest award is yet another indication of our consistent performance in the second quarter and the nationwide expansion of our 4G network."
Average Revenue per User (ARPU) has been relatively consistent in the ten quarters. ARPU increased by 2.4% YoY. Average Minute per User (AMPU) also increased by 4.0% YoY. Both factors were key in growing the mobile service revenue by 7.0%. APMU decreased by 1.3% QoQ.
Mobile Subscribers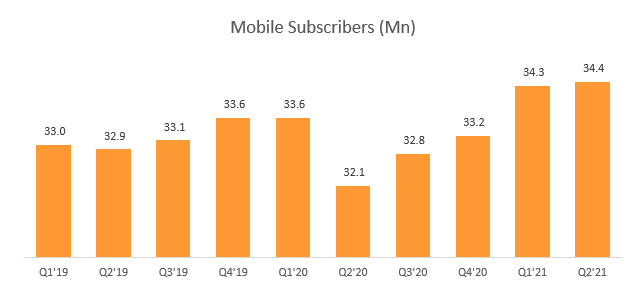 Mobile subscribers increased by 7.2% YoY despite the nationwide lockdown in the country. Banglalink focused more on digital channels which helped the company to acquire more users. In terms of total mobile subscribers, Banglalink is the third-largest telecom company followed by Grameenphone and Robi.
Data Revenue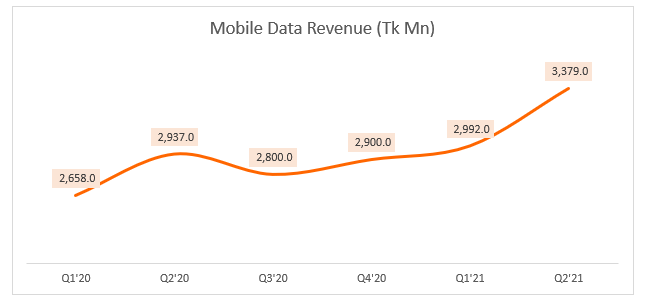 Data revenue grew by Tk 442.0 Mn mainly due to growth in data subscriber acquisition and data consumption. Data subscribers of Banglalink have grown by 8.9% YoY from 19.6 Mn subscribers in Q2'20 to 21.2 Mn subscribers in Q2'21. 4G data subscribers increased to 9.9 Mn which is a growth of 68.0% YoY. Such high growth is mainly due to the investment in 4G networks. Banglalink was also recognized as the fastest mobile network in Bangladesh for the third consecutive time.
Data consumption per user also increased by 43.7% YoY. The company is reaping the benefit of higher data demand due to the pandemic. The ongoing coronavirus pandemic has pushed people to work from home, students to learn through live classes, and people connecting more through messengers. These trends have increased the consumption of data not only of Banglalink but also of Grameenphone and Robi.
Conclusion
It is evident that the company's focus on the 4G network and data business is paying dividends. Still, 4G Smartphone users of Banglalink is 10.9 Mn which is approximately one-third of its total user base. Hence the telecom company has a huge potential in the long term to grow its business.
For more updates, be with Markedium.