Apple Released A Musical Love Story Titled Fursat, Shot On iPhone 14 Pro

2

min read
Recently, Apple delivered a musical love story titled Fursat that is shot completely on the iPhone 14 Pro. This 30-minute film is a Bollywood-style musical praising the force of love and is directed by award-winning Mr. Vishal Bhardwaj starring Ishaan and Wamiqa Gabbi in lead roles.
Well, Apple has been boasting about its iPhone 14 pro camera quality for quite a long now. So, what else can be a better way than shooting an entire film (alright short film) with the iPhone 14 pro? Probably nothing.
Read more: 40 Brands Are Awarded The Prestigious Superbrands Of 2022-2023 Title
The short film utilizes the iPhone 14 Pro's Action mode that offers a steady, smooth video regardless of whether you're catching in the action. It provides much more stabilization in circumstances where the individual catching the video is moving around a ton, such as running.
It likewise utilizes Cinematic mode that empowers lovely depth-of-field impacts and programmed focus changes to video in a basic and natural manner for cinema-style minutes offering more vivid storytelling. This currently works in 4K and has better semantic rendering with improved results on hair and glasses. For more inventive control, the focus can be changed both during and after capture. The cinematic mode additionally records in Dolby Vision HDR.
Want to check what happened behind the scene? Have a look:

Regarding Fursat, the Director, Vishal Bhardwaj, reportedly said:
A traditional film camera comes with 10 people, 3 attendants and 10 boxes of lenses… you can't move around. You can't be quick. iPhone liberated me in that sense. Action mode was the biggest surprise for me. In Fursat, we've covered a lot of things in action mode. If you see the raw footage, the visual is so jarring and destabilised. On Action mode, it's so smooth. You have to see it to believe it.

I've never had this kind of scale in my films ever before. And this can tell you about the scale iPhone can achieve. As a device, it's taking you out of the limitations which we had when we were growing up. We didn't have the luxury which iPhone is providing every budding filmmaker today.
Director Of Photography, Swapnil Sonawane, said:
I didn't know how much iPhone could handle, but the way it did was just fantastic. I think action mode is the most amazing update. For it to be held in your hand and run with all your might looking at the actor, one can get extremely steady shots, without an external gimbal.

The way Cinematic mode shifts focus is the way the focus puller would, it's an emotional shift focus, which is what was absolutely beautiful about it.
Cast and crew profiles.
Apple's CEO Tim Cook also hasn't forgotten to show his appreciation as well,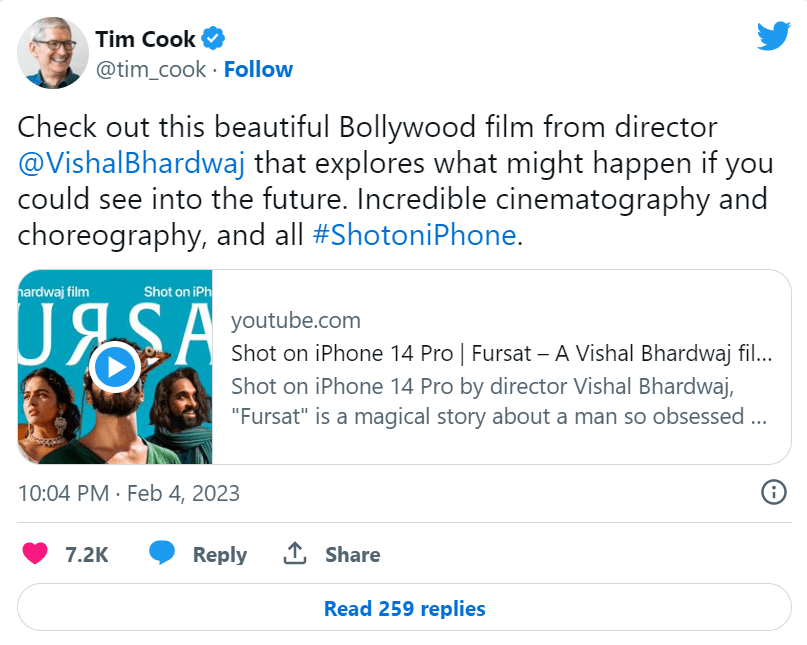 For more updates, be with Markedium.