Nation's largest Selling Competition, Sellsation 2023, is Live!

2

min read
After a long holdup, the Spartans' Communication Club of the University of Dhaka is back with its third edition of the much-anticipated flagship selling competition, Sellsation 2023. Besides being the country's most prodigious selling competition, Sellsation is ready to radically revolutionize the students' business competition experience. The competition aims to enrich the students selling knowledge while delivering the prospect to practically execute their selling strategies in real-time scenarios.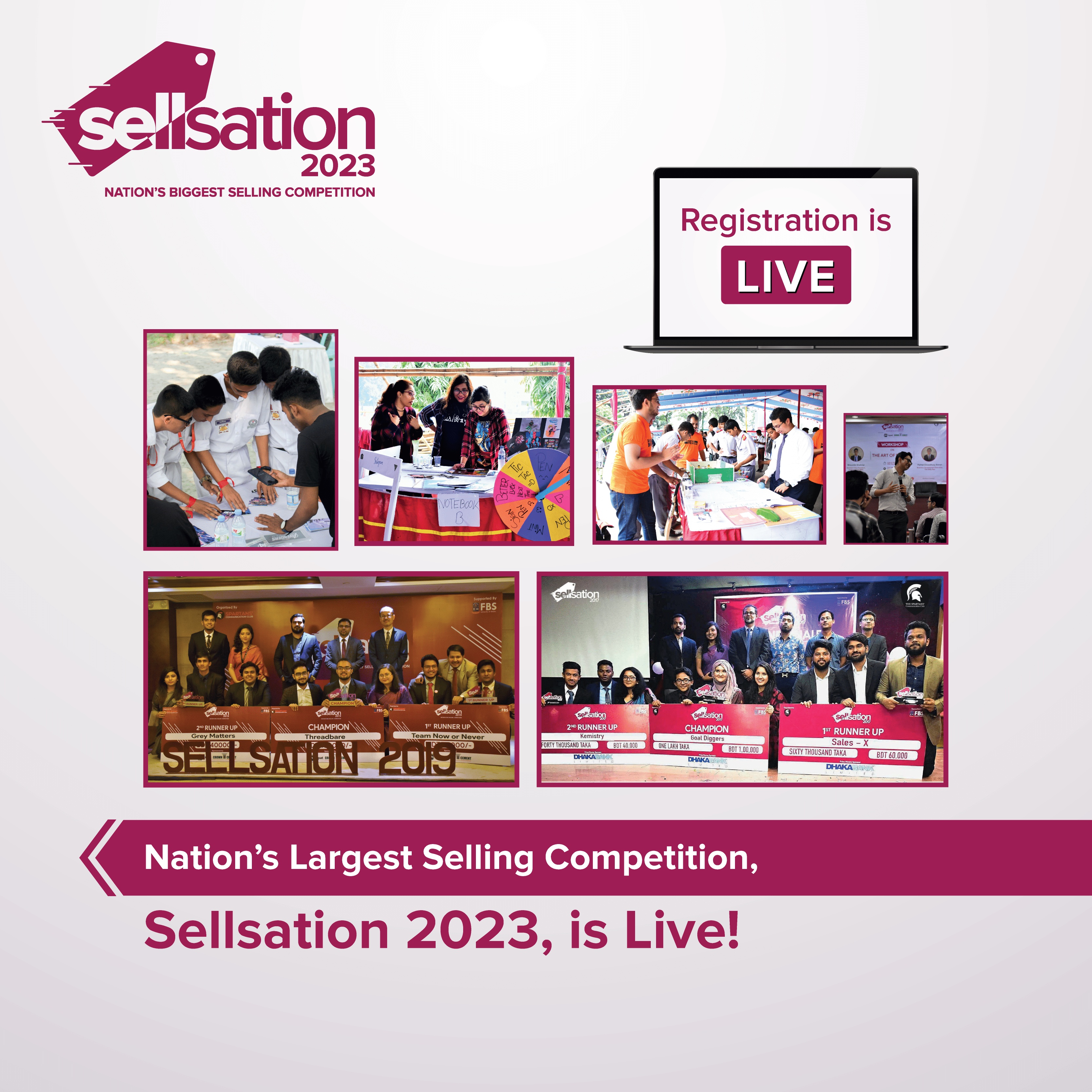 Sellsation 2023 boasts an enormous prize pool of BDT 200000. The champion team will bag BDT 100000, followed by BDT 60000 for the first runner-up and BDT 40000 for the second runner-up, respectively, with trophies. The competition is open to all undergraduate students in the country. Each team needs to consist of three to four members; however, cross-university teams will be allowed. The registration process is fairly simple, with a fee of BDT 610 per team. 
Read more: 40 Brands Are Awarded The Prestigious Superbrands Of 2022-2023 Title
There are four rounds in this competition. Round one is set to begin on 14th February. Qualified teams from round one will attend a workshop and inauguration program on 23rd February. The tentative dates for the second and third rounds are on 25th February and 1st March, with a huge surprise for the participants in the third round. The grand finale is scheduled to be held on 18th March. The electrifying round details will be revealed to the participants as they progress onward in the competition with some exhilarating twists.
Since its launch this year, Sellsation has been receiving enormous responses from students across the country. The organizers have also undertaken a massive promotional campaign to champion the event nationally. These include inter-university roadshows, club partnerships, offline booths, and online promotional activities to spread the event's reach all around the nation.  
The current Spartans' president, Zamilur Rahman Shuvo, expressed his jubilant expectations concerning the event. "It's a golden opportunity for the students to exhibit their vibrant selling skills to their fullest while battling it out against some of the best minds in the country for the grand title. The entire club atmosphere is reverberating from the electrifying exhilaration of organizing a grandiose event of this calibre." He further applauded his highly enthusiastic team, whose assiduous and diligent efforts have contributed to the culmination of the reverie into reality.
So, for all the undergraduate students poised about their selling skills, here's your chance to take the stage, stand out from the crowd, and prove yourself in the ultimate selling showdown of the year! Find out more about the event at https://fb.me/e/2De8UIOqf.
For more updates, be with Markedium.