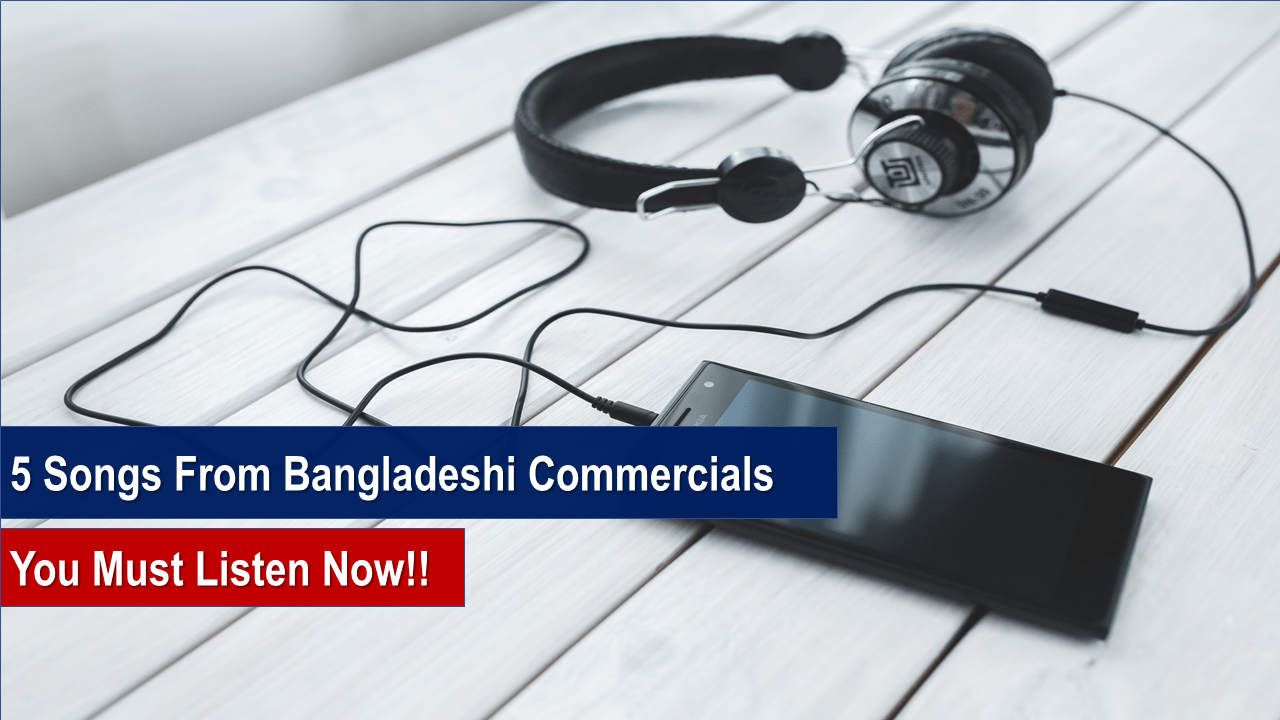 Throwback Tuesday | 5 Background Songs from Bangladeshi Ads You Should Add to Your Playlist

3

min read
#ThrowbackTuesday is a segment where each Tuesday, Markedium will give you a ride to the noticeable old local/global advertisements.
Have you ever watched a TVC or OVC and felt like the background music/song could easily be a fans favorite if it was not a commercial? Ever since the early days of advertising, music and TV ads have gone hand in hand. While music on its own can be a powerful tool, it becomes far more effective when it highlights or corresponds to a story. Hence, brands often try to make it right with one brilliant background music or song to connect with their target audience.
You already have one or two in mind, right? However, if you're wondering what these commercials are, then this list is for you.
If you are in you 30s. then this campaign from Nescafe must knocks the door of your memory lodge. We will find almost none who doesn't acknowledge this legendary campaign. With flawless story building with the most amazing slices of life, this theme song was the center point of all the attraction. I bet; you still can't sit still without starting to sing the song once you play the ad.
Nirghum Chokh Janalay | Grameenphone
The second one in our list is without a doubt a beautiful song itself. GP used this song as a background for one of their 3G package promotion TVC. The song got so many positive feedbacks that GP had to release the full song to fulfill the public demand.
Here you go, have a look.
Shopno Jabe Bari | Grameenphone
One of our personal favorites, Shopno Jabe Bari Amr from Grameenphone was used as a background song for the Eid Ul Adha 2016. If not the best, then surely the campaign was one of the best of all time so far from Grameenphone itself. And the lyrics did absolute justice to the core of the campaign. Listen once again but this time as a song, you will feel each and every line of the song.
Ronge Dhonge Utsobe | Berger Bangladesh
Advertisers get some bonus points whenever they create a trend in the industry with their commercials. This year, the marketing geniuses of Berger Bangladesh has done something similar. On the eve of Berger's 20years anniversary, Berger came up with a sequel campaign of one of their most legendary campaigns to create a permanent spot among the consumers. The theme song gave life to the campaign. The overall composition and lyrics of this brilliant campaign told the journey of Berger being with its consumers for last 20 years.
Read More: Throwback Tuesday: 10 Creative & Original Pop Up Shop Designs That Will Amaze You
The only regret for us regarding the campaign is that Berger never released the full version of the song. Have a look:
Bangla Ekhon, Bangla Tokhon | Coca Cola
On the eve of International Mother Language Day, Coca Cola initiated a campaign a year earlier to revive the Bengali in us. As a continuation of the same campaign, Coca Cola this year tried to engage the youth of the country through connecting the meanings of actual Bengali words with the ones we use currently.
Read More: Best Eid Ul Adha Campaigns of 2019- A Markedium Take
The modern rendition of the background song consisting the mixture of pop and rap that can easily book a spot in the regular playlist of today's youth in Bangladesh.
This was all from us. We also like some more. Such us Cholo Bangladesh- Grameenphone, Cholo Shobai 2.0-Nescafe, Nikhoj Shobder Khoje- Coca Cola etc.
So, don't forget to mention which one you have liked the most! For more articles and updates stay connected with us through our Facebook Page.