The Total MFS Accounts In Bangladesh Crossed 18Cr Mark

2

min read
The sum of account registration in the mobile financial service sector of Bangladesh is on escalation. For the first time in July 2022,  the number of accounts crossed the 18-crore mark. In fact, 13 MFS providers registered 18.11 crore, new users, at present. Compared to July 2021, the MFS sector witnessed 16% growth from 15.60 crore users.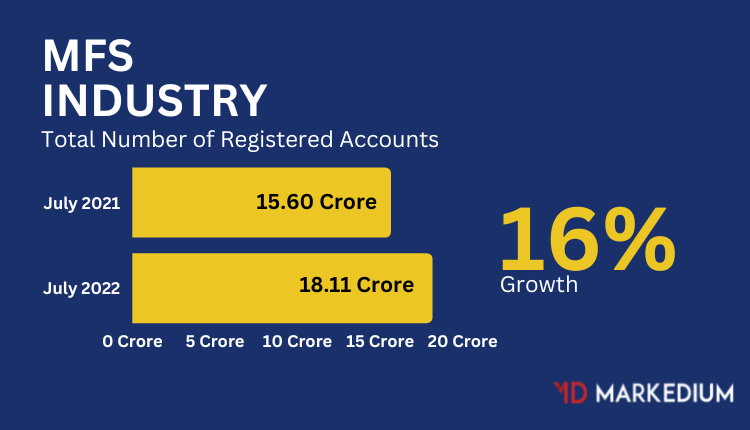 Further, in July 2022, people transacted over Tk 89,169 crore in multiple forms. In fact, it is a hike of 15 percent from Tk 77,645 crore in the same month in 2021. People transacted money through cash-in, cash-out, person-to-person transfer, merchant payment, and government-to-person transfer. Besides, salary disbursement, talk-time purchase, and utility bills payment played major roles in this regard.
Rural residents are one of the principal factors in the development of MFS in Bangladesh. 10.07 crore users live in rural areas, compared to 8.04 crore in urban areas. According to BB, 10.43 crore men use the service compared to 7.64 crore women.
In the entire nation, there is currently 15.26 lakh MFS agents.
Similar to this, there are 1.63 crore agent banking accounts in July 2022, an increase of over 31% year over year. Where Males owned 80.96 lakh accounts, while females hold 79.60 lakh. At the moment, there are many MFS providers contributing to the economy in the country. Namely,
bKash
Nagad
Rocket
MYCash
Islami Bank: mCash,
Trust Axiata pay (tap)
FSIBL: FirstPay SureCash
Upay
OK Wallet
Rupali Bank: SureCash
TeleCash
Islamic Wallet
Meghna Bank: Tap 'n Pay.
In comparison to Tk 32,523 crore during July 2021, the account holders transacted Tk 52,784 crore this month. However, reportedly the amount of remittances that migrant workers working overseas sent home decreased somewhat. It is a downfall from Tk 3,159 crore to Tk 3,144 crore.
Read more: Real-Estate In Bangladesh: Received Tk30,000 Crore And More Foreign Investment Awaits
In Bangladesh, there were 14,412 agents and 19,861 outlets in the first month of the financial year, up from 13,086 and 17,332, respectively. 28,583 crore Tk worth of deposits got into the accounts during the month. In July of the previous year, it was Tk20,671 crore.
Agent banking system took place in Bangladesh in 2013, with the central bank giving 28 agent banking licenses. With a view to providing a secure alternative delivery channel of banking services to the disadvantaged and under-served population who live in distant areas.
In 2014, Bank Asia launched the first agent banking service in the nation. Additionally,  Islami Bank Bangladesh Ltd, Dutch-Bangla Bank Ltd, Brac Bank, City Bank, Mutual Trust Bank, and Al-Arafah Islami Bank. Besides, Agrani Bank, NRB Commercial Bank, and Modhumoti Bank are some of the other banks with a prominent presence in this market.
Over the years, Bangladesh's development in the MFS and agent banking sectors has drawn accolades.
For more updates, be with Markedium.