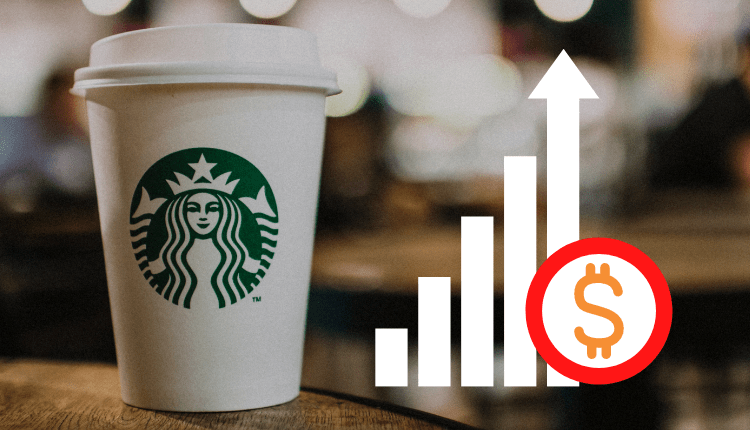 Starbucks: Just A Coffee Shop or A Global Bank?

5

min read
Whether you're a millennial or a belong of Gen-Z, there is very little chance you haven't heard of Starbucks. The global coffee house has become a pop-culture icon in recent times. Millions of people worldwide can't imagine kicking off their day without having their favorite hot beverage. No brand is taking more advantage of this caffeine craze than Starbucks.
However, many fail to realize that its rapid expansion and popularity are helping it to achieve financial stability like a giant financial institution or a bank.
The Unwavering Commitment to Customer Satisfaction
Although many people are familiar with Starbucks, very few, know about their long, tiresome journey to greatness. It had very humble beginnings in 1971, with its very first location in Seattle. However, the world soon fell in love with their drinks which created a nationwide craze. Starbucks outlet began to multiply within the USA very quickly, with the brand having 677 in 1995. The very next year, they had made their international debut with an outlet in Japan.
Read More: 8 Facts About Xiaomi That Will Surprise You
However, it wasn't all smooth sailing for the coffee brand. Their quality dropped in the middle, and they made drastic changes to rectify the issue. With the mantra of customer satisfaction, they bounced back in no time. Not only did the new strategies benefit the customers, but it was also helpful for the employees. Working for the coffee house is now quite sought after with minimal turnover.
One of the noteworthy changes was the emphasis on technological innovation, leading to the birth of the Starbucks card. The card allows you to accumulate reward points by making payments. Having enough "stars" will allow you to redeem free drinks occasionally.
A Bank?
Knowingly or unknowingly, Starbucks's rise to becoming the most popular restaurant rewards app led to a new scenario. With as much as 41% of consumers in Canada and the USA paying through that app, the card has a collective balance of $1.5 billion by 2019. To put this in perspective, 85% of all US banks have less than $1 billion dollars in total assets.
It can be thought of as a loan to Starbucks with no interest. Although the average customer tops up their card with the thought of eventually spending it, it sits idle most of the time. This predicament has allowed Starbucks the privilege of reinvestment. On top of that, 10% of that is guaranteed to remain with the brand due to "breakage."
But here's the thing: Starbucks is not a bank, legally speaking. With only a few exceptions, Starbuck's balance cannot be withdrawn for cash, only coffee, allowing it to bypass financial regulation and use deposited money however it likes.
Read More: YouTube Reveals 5 New Important Updates For its Analytics
Customers as of now use Starbucks gift cards like the following best thing to money – it's the go-to gift to somebody you don't realize very well yet don't have any desire to give cash. It's somewhat fluid – not on the grounds that it tends to be changed over to Coffee, but since you be sensibly certain anybody will have a need for it, making it a practically widespread mediator.
Despite Starbucks not officially being a bank, it's certainly showing the hallmarks of one and if it ever wants to become a financial organization, Starbucks has all the ingredients necessary to build a fully-fledged currency or partner with other brands to create a widely available mobile payment system.
Although Starbucks has grown bigger than what has been predicted, there's no need to be worried. The brand has not yet used devised an evil plan to rob customers of their money. It's just a huge wave caused by the ripple of loyal fans keeping their Starbucks cards replenished.
In the end, the card is still one of the most reliable ways of buying coffee from the franchise. The service has a significant amount of universality and liquidity. From personal use to giving in-store credit as a gift, it provides extraordinary convenience.
A Learning for Other Brands
From the books and some very famous global examples, we have seen why customer satisfaction is core for any brand's long-term success. In every part of the world, it's a well-known concept that achieving customer satisfaction is a must to engage customers to keep the money flowing to the business, but it requires cash investment to make it happen.
Read  More: Personal Retail Account | A New Service From bKash That Helps The SMEs and Online Retailers.
As a result, new businesses that made sure customers stay happy and delighted with their services in the first phase of the business can't keep it going due to the lack of cash. There are too many examples as such.
So, we believe the idea of using loyalty cards in such a manner as Starbucks can go a long for Bangladesh. Now, we have multiple MFS providers who can come in handy for a brand that already has a loyal customer base. As a brand, you just need to complete some steps carefully such as know your loyal base and their average spending amount for your service and then come up with a sweet offer for their loyalty with some crazy deals or gamification. Can be a game-changer for food delivery startups in Bangladesh as well.
[gravityform id="8″ title="false" description="false" ajax="true"]
For more updates, visit Markedium!