Singer's Advertisement and Promotion Expense Increased by 5% In The First 9 Months of 2021

1

min read
Singer Bangladesh Ltd one of the leading manufacturers & retailer of home appliances and consumer electronics have increased its Advertising and Promotion cost by 5.0% in the nine months of 2021 compared to the same period last year.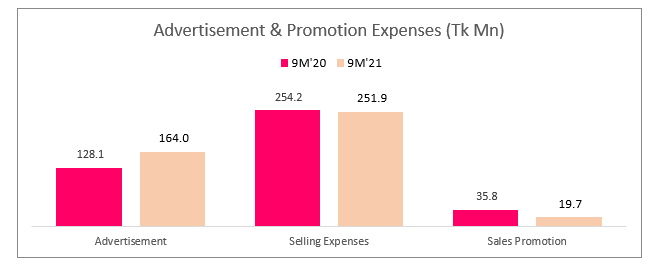 Advertisement and Promotion Expenses was Tk 470.2 Mn in 9M'21 compared to Tk 447.7 Mn in 9M'20. Selling Expense, the largest contributor with 53.6% decreased by 0.9% YoY. The main growth driver was advertisement expense which increased by 28.0% YoY from Tk 128.1 Mn in 9M'20 to Tk 164.0 Mn in 9M'21. The increase in spending might be attributed to the normalcy of business activities during the first and second quarters of 2021.
However, advertisement and promotion expenses in 21.6% lower than pre-pandemic spending of Tk 599.5 Mn in 9M'19. Advertisement and promotion expense as a percentage of sales was 10.2% in 9M'21 compared to only 7.1% in 9M'20
Singer posted 8.2% YoY revenue growth for the nine months of 2021. The growth was mainly driven by higher consumer demand which increased the sale of cooling products than expected. Net profit after Tax declined by 5.2% YoY in the nine months of 2021.
For more updates, be with Markedium.