Akib
, a 21 year old, comes home from a hectic day at his community college and part time job
and logs into Facebook. His newsfeed lights up with so pictures posted by his friends who went
to Ivy League colleges and their achievements. He idly scrolls through 
the rest of his newsfeed
filled with similar posts relating to achievements, vacations and relationships and keeps thinking
about what the hell is he doing with his life? What did he accomplish compared to his high
achieving high school friends? Their posts get an average of 200 likes even if they just post a
picture of them sitting in lectures whereas his "employee of the year" achievement post got 17
likes and that too from other "losers" like himself. He goes downstairs to have dinner with his
family where his father grills him with questions and ridicules everything he is doing with his
life. He leaves the dinner table mentally drained and lays in his bed thinking about everything.
He logs into 
Instragram
 where all his posts have two hashtags are common #
Blessed
#
GoodDayEveryday
 and he thinks to himself "Who am I lying to? The world or myself?"  All on
a sudden he gets an Instagram notification which says his crush shared something on her
Instagram and he immediately taps on it. He sees his crush posting a couple picture with a guy
with 
hashtags like #bae #soulmate etc. and he stalks the guy on 
facebook
 and Instagram and
finds that this guy is everything he could never be, not at least with the current state and pace of
his life. The accumulation of everything crushes down on him. All those voices in his head that
keeps screaming inside his head are more relentless today than they have ever been. And he
doesn't have anyone to talk to about the voices in his head nor does he want to face another day
of this ordinary less than average life. He de
cides to put an end to his miserable life and end it he
This is just one story of thousands out there, unknown and lost in outer turmoil of this world.
Everyone is too busy with themselves to notice what the next person is going through. Everyone
snapchats and 
instagrams
 their best moments but never their worst. They don't want the world to
know what they are going through and at the end of the day, all these bottled up feelings
overtakes their will to live and explodes. In UK, suicide is the number one reason for death
followed by US where suicide ratio is 7.3 for every 100,000 of population. Mankind made
tremendous advances in polio prevention to prevent loss of limb functioning and child mortality
rate to lose to this one thing? It has tried to ensure that every child survives at birth and is not
struck down with limb paralysis yet these fully able bodied children 
is lost to suicide.
​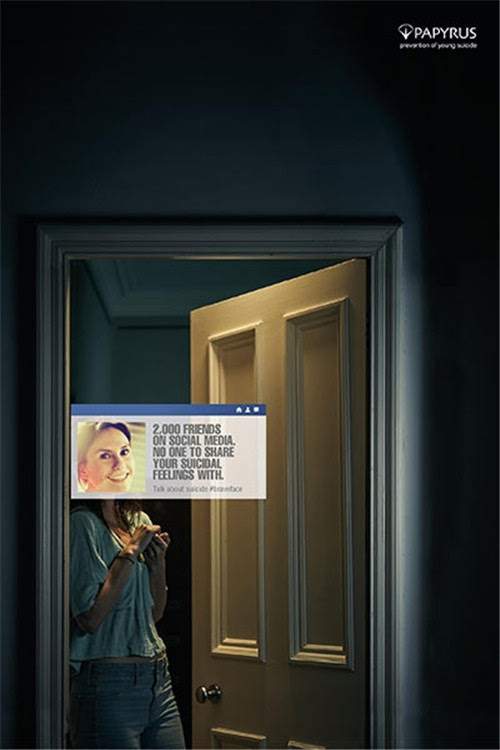 Papyrus's "Behind the #
Braveface
" campaign calls out to everyone to shed their masks of
self-deceiving smiles and help each other talk about what makes them miserable, keeps them up
at night and what suicidal thoughts do they have. The campaign puts light on the actual faces in
the dark rooms who posts about their lies about them living a life full of positivist and
amazingness. It connects with the victims and the people around the victims alike. The victims
realize that someone and someone cares. The people in general are more cautious about their
friends and keep themselves open to any conversation if they sense a person's exterior calm
belies their inner turbulence.
So the next time you see a friend posting his/her life is amazing even though you know they went
through a bad break up or a 
terrible exam results recently, will
 you just accept those posts at face
value 
and be off with a like or will you communicate with personally to find out how they are
really holding up? Because you never know, they may pour out their bottled up emotions just as
you enquire because they have been holding on to them for so long and needed someone to listen
to them. You might just save a life that was on verge of suicide.