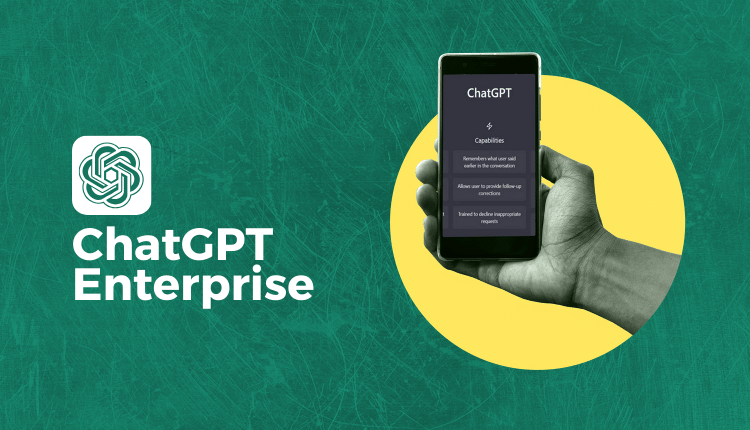 OpenAI's New "ChatGPT Enterprise" :
Elevating Business Efficiency and Data Security

2

min read
OpenAI has announced the launch of 'ChatGPT Enterprise', a business-focused edition of its AI powered chatbot app. ChatGPT Enterprise can perform the same tasks as ChatGPT, such as writing emails, drafting essays and debugging computer code. But the new offering also adds "enterprise-grade" privacy and data analysis capabilities.
ChatGPT Enterprise is designed to protect businesses' data. OpenAI will not train models on business data sent to ChatGPT Enterprise or any usage data. All conversations with ChatGPT Enterprise are encrypted in transit and at rest. It offers faster performance and a larger context window than the vanilla ChatGPT. This means that ChatGPT Enterprise can handle more complex tasks and generate more comprehensive responses. ChatGPT Enterprise also offers a number of customization options, such as the ability to create custom conversation templates and integrate ChatGPT Enterprise with other business apps.
ChatGPT Enterprise is powered by GPT-4, offering faster performance compared to the standard GPT-4. This is achieved through priority access to GPT-4 and an expanded 32,000 token context window. These technical enhancements reduce the likelihood of the model "forgetting" recent conversations, enhancing the user experience. So it is predicted that there will be a strong demand from businesses for an enterprise-oriented version of ChatGPT. OpenAI states that ChatGPT, which has experienced rapid consumer adoption, is now being used by teams within over 80% of Fortune 500 companies.
ChatGPT Enterprise is targeted at businesses of all sizes. It is a good fit for businesses that need an AI powered chatbot that can handle a variety of tasks, protect their data, and be customized to meet their specific needs. OpenAI has not yet disclosed pricing for ChatGPT Enterprise. However, the company says that pricing will be dependent on each company's usage and use cases. OpenAI says that it plans to continue to develop ChatGPT Enterprise in the future. The company plans to add new features, such as a ChatGPT Business offering for smaller teams, the ability to connect apps to ChatGPT Enterprise, and more powerful versions of Advanced Data Analysis and web browsing.
Read More: Zaved Akhtar Named New Chairman Of Unilever Bangladesh
ChatGPT Enterprise is a powerful new tool that can help businesses automate tasks, improve productivity, and protect their data. OpenAI's focus on privacy and security makes ChatGPT Enterprise a good choice for businesses that need to protect their sensitive data.
For more updates, be with Markedium.