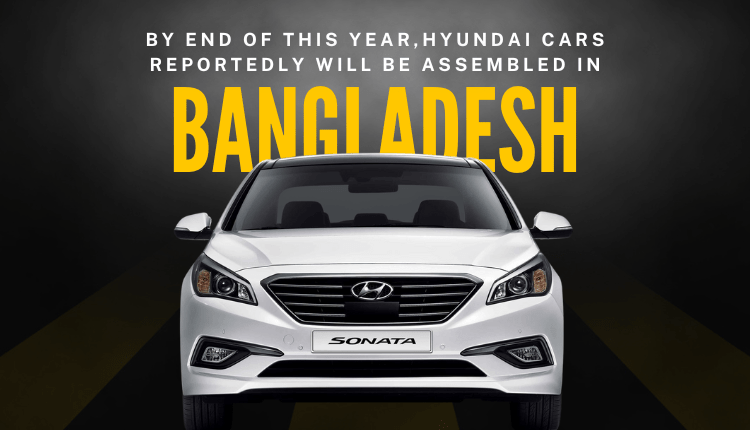 Hyundai Will Reportedly Start Assembling Cars In Bangladesh By The End Of This Year

2

min read
Lee Jang-Keun, South Korean Ambassador to Bangladesh, reportedly stated at the national day celebration at a city hotel on October 2, 2022, that Hyundai will soon start assembling cars in Bangladesh.  Fair Technology is now setting up an assembly facility for Hyundai Motors at the Kaliakoir Bangabandhu Hi-Tech Park.
By the end of this year, he claimed, Hyundai cars will be locally produced.
Read more: The Total MFS Accounts In Bangladesh Crossed 18Cr Mark
Further, having similar ideals and aspirations, he added that over the past 49 years since diplomatic relations were established in 1973. Since then, Korea and Bangladesh have had outstanding relations in every area. According to the Korean envoy, Korea has supported Bangladesh in its exceptional socio-economic progress since gaining independence and is extremely proud of this.
He reportedly stated that recently two former Bangladeshi expatriate workers met who had just returned from Korea and were now in charge of medium-sized businesses. They are the living example of what friendship between Korea and Bangladesh looks like. Reportedly, the two countries' commerce increased to an all-time high of $2.3 billion in 2022.
More than 70% of Korea's investment in Bangladesh, where it ranks sixth in terms of FDI, goes to the RMG industry.
Bangladesh, which is the third-largest recipient of Korean ODA, has been one of the main partner nations for Korean development assistance. The Korean government has resolved to dramatically boost its development loans to Bangladesh from $700 million to $3 billion for the period of the next five years. Additionally, to the budgetary support of 150 million dollars to help manage the Covid-19 pandemic last year.
By the same token, Hyundai starting its operation in Bangladesh is a significant move. The South Korean car company,  has garnered a reputation for reliable and efficient engines. From the 1.2-liter petrol engines or the 1.5-liter diesel engines, Hyundai has developed very reliable engines that power just about every car in their lineup.
Each Hyundai model has a sleek, fluid design that helps it stand out from the crowd. You can find a great Hyundai in a variety of different body styles. Hyundai is the first company to offer its drivers a 10-year/100,000-miles powertrain warranty. They also provide 3 years/36,000 miles of complimentary scheduled maintenance. Further, a 10-year hybrid battery warranty.
Hyundai has also won #1 in customer loyalty, 11 years in a row. Not to mention, the company has become the official sponsor of FIFA World Cup 2022.
For more updates, be with Markedium.