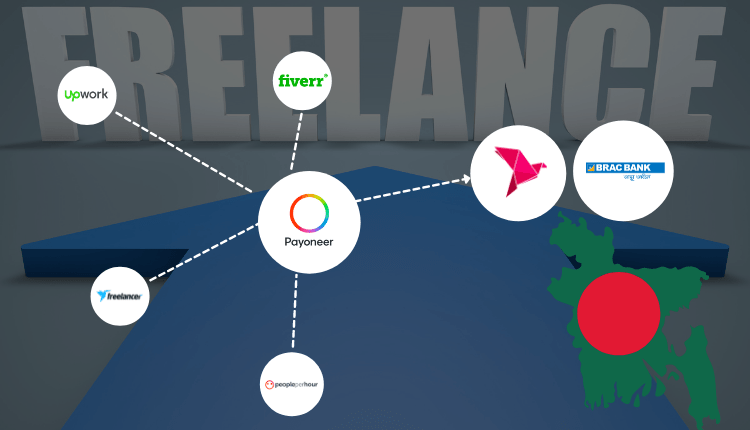 Freelancers' will now be able to transfer payment from Payoneer to bkash

2

min read
Bkash, the largest mobile financial service (MFS) in Bangladesh partnered with Payoneer, a US-based commerce technology company to provide cross-border payments. Through the partnership, the growing freelance services providers of Bangladesh can now transfer their payments from Payoneer to bkash. Brac Bank will act as the local payment gateway. Brac Bank and bkash jointly launched the service through a virtual event on 10th February 2022.
Zunaid Ahmed Palak MP, State Minister for Information and Communication Technology (ICT), inaugurated the service as the Chief Guest. Russel T. Ahmed, President of BASIS; Rohit Kulkarni, Regional Senior Vice President of Payoneer and Robert Clarkson, Chief Revenue Officer of Payoneer; Selim R. F. Hussain, Managing Director & CEO of Brac Bank and Kamal Quadir, Chief Executive Officer of bKash along with senior officials of respective organizations also joined the event.
Read more: How bKash Hits All the Right Notes with Its 1% Extra Cash-Back on Remittance Offer?
Zunaid Ahmed Palak, MP, State Minister for Information and Communication Technology (ICT) said, "I would like to thank bKash, Payoneer and BRAC Bank for making the process faster and secured for the freelancers".
He also said, "Skilled human resources are our greatest strength. Around 6,50,000 freelancers of the country have been contributing 16 percent to the world's online outsourcing. According to a study by Oxford Internet Institute, Bangladesh is the second largest destination for online outsourcing. During last 13 years, 2 million young technology-based employment have been created with various initiatives and policies of the government, and we are working for further expansion."
The whole process of transferring money from Payoneer to bkash will only take a few seconds as all the steps will be taken in real time. Freelancers will need to link their bkash accounts with the Payoneer accounts to get the service. However, freelancers will only be able to withdraw money from their bkash account when it reaches the minimum deposit of Tk 1,000 (Payoneer account).
For more updates, be with Markedium.