Digital Marketing Award 2017: Best Use of E-Commerce | Grand Prix

2

min read
"Bengal Meat Qurbani Haat" was the online qurbaani haat, though not new for the world, but for us. this was their 3rd approach for an online store of this kind, where it came out to be successful in this year. Now what's the pick which made this approach successful, in this very year? Well, it's all about convenience. But this delivering of conveniences comes with a whole new pack of challenges.
While thinking about the Bangladeshi traditions where people love to visit the physical qurbaani haat, regardless of whether they are purchasing or not, it's actually a pleasure that we find in the physical cow haat. this factor comes with a big challenge for this online store, because the people of Bangladesh are still making a transition into online customers.
However, convenience was the pick. their is not this only one convenience- not visiting the physical platform; rather to some point this turns out to be an undermining factor. The greater convenience lied under providing safe and fresh meat, which to some point the physical factor failed to deliver. The very first two editions of this online qurbaani haat wasn't that accepted, but the boundaries were broken until Bengal Meat found alot of Bangladeshis' interest in it.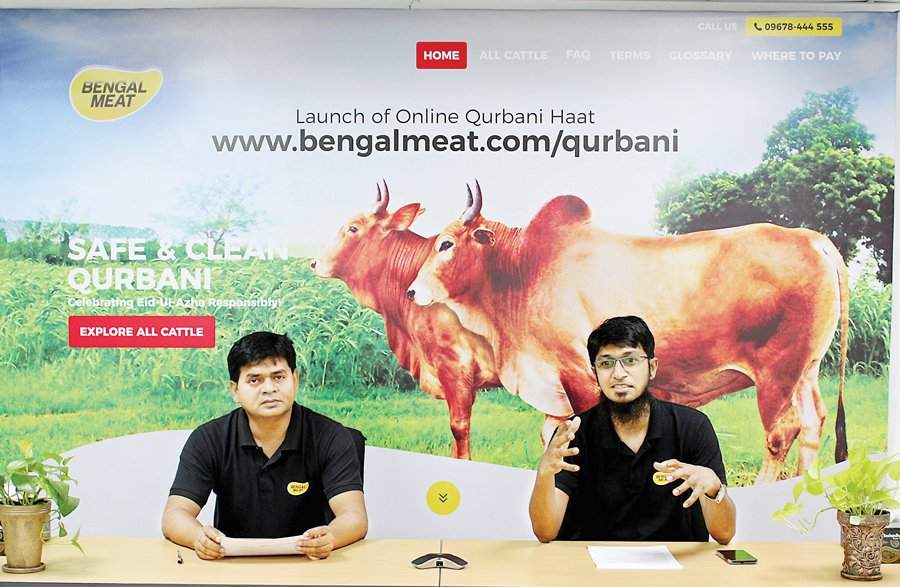 So for now, moving towards some practical thiscussions, we will get to see a clearer picture for the success of this venture. Firstly, their are lot of us who don't like the hustle in the qurbaani haat. Secondly, we spend hours and hours for finding the right cow, which first matches our health preferences for the animal and secondly the price. this hustling process ends with a bumpy ride with the cow on our way back to home. this whole process requires alot of time and efforts at the same time. But to consider what everyone looks for, it's actually a healthy cow at our home ready for sacrificing. And to some point, its sometime the processed meat which we only look for, because all we will be doing with the cow is sacrificing for the poor and for our consumption. this whole hustling process can be done with ease through an online store, while Bengal meat and Beatnik took their very first initiative. because their are people ready with some extra money, for a decrease of this hustling effort. So that is where exists the upper hand for an online qurbaani haat.
8 out 100 retail stores in Asia were online in 2014. this number gradually increased, from 8 to 18. this clearly reveals the acceptance of online platform. Beatnik's initiative was "Boundary breaking" approach, where they justified the presence for an online qurbaani haat. The "Bengal Meat Qurbani haat" was considered the best utilization of online platform, or e-commerce. For which the very initiative won the "Grand Prix" in the Digital Marketing Award by Bangladesh Brand Forum held in 14th October, 2017.