bKash Posted Tk 358.5 Million Profit In Q1'23, Which Is More Than Double Than What It Made In FY 2022

1

min read
bKash, the largest mobile financial services provider posted solid earnings in the first quarter of 2023. According to the recently published financial statements, bkash posted a profit of Tk 358.5 million in Q1'23. In Q1'22 bkash posted a loss of Tk 287.8 million.
The profit posted by bkash in Q1'23 is greater than the profit made in the whole year of 2022. In 2022, the company posted a profit of Tk 172.1 million.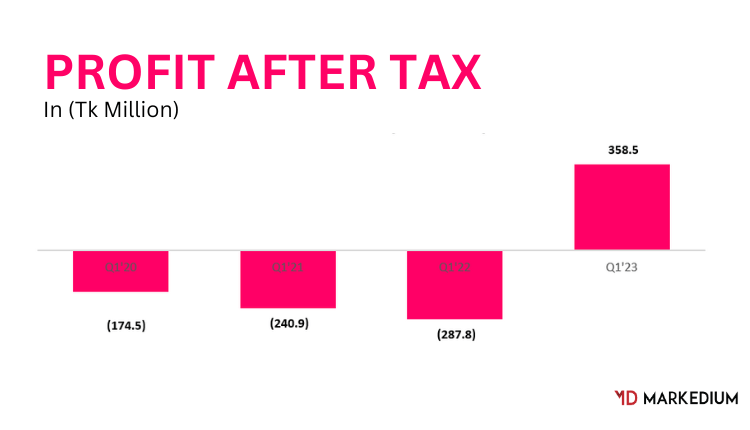 The company's gross revenue (revenue before deduction of VAT) increased by 24.0% YoY to Tk 11,151.4 million in Q1'23. The gross profit of the company increased by a staggering 55.9% YoY to Tk 2,834.8 million in Q1'23.
Read more: An Inspiration For Other Brands To Setting A Milestone For Local Startups | Taking A Deeper Look At The bKash, AFA Partnership
This is not only driven by increased sales but also due to increased margins. bkash has been coming out with different services on its app which allows them to get greater margins compared to the traditional cash-out business. Those initiatives are working as the gross profit margin increased to 28.9% in Q1'23 which was 23.1% in Q1'22.
Key Takeaway
---
The important takeaway from the quarterly performance is that the company was able to post an operating profit of Tk 125.7 million. Although the company posted a profit in the year 2022, it was not able to post operating profit (profit from running its main business operation).
Read more: Bkash Becomes The First & Only Bangladeshi Brand Partner Of FIFA World Cup 2022 Winner-Argentina
Finance Income also grew by 35.6% YoY to Tk 417.8 million in Q1'23 and it remains the main contributor to the net profit of the company.
The company, which was formed on March 1, 2010, is the leading MFS provider with 65.3 million customers as of 2022.
For more updates, be with Markedium.