Berger's profit grew despite Covid-19 in FY 2020-21

2

min read
Berger Paints Bangladesh Limited, the leading paint manufacturer in the country has recently published its annual report for the period Apr'20-Mar'21. Revenue of the company grew despite having the majority of the fiscal year disrupted by the Covid-19 pandemic. Revenue grew by 2.8% to Tk 16,670 Mn in FY 2020-21 from Tk 16,219 Mn in FY 2019-20. Net Profit after tax increased by 11.2% to Tk 2,549 Mn in FY 2020-21 from Tk 2,292 Mn in FY 2019-20.
Revenue and Gross Profit Analysis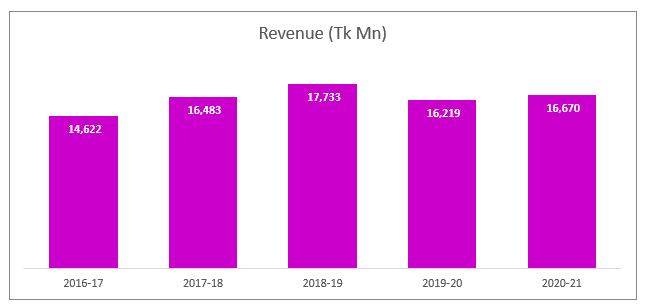 The company maintained a good revenue growth record till 2019-20 when it was hit by the pandemic. Business declined in Q4'19-20 & Q1'20-21. However, the company has rebounded since Q1'20-21 and has been on a growth trajectory ever since. The company achieved 2.8% revenue growth driven by 6% volume growth. The company claims to increase its market share in 2020-21 by expanding its distribution reach in the semi-urban and rural market with innovative marketing strategies. Berger plans to continue the strategy in the following years.
Berger was also proactive to fulfill the diversified needs of the customer and explore new opportunities. Berger entered the hygiene business by launching Berger Mr. Expert Advanced Hand Sanitizer. The company has launched the "Berger Expert Sanitization Service". The disinfection service ensured the safety of stakeholders and society. Berger also launched Magico Antimicrobial PU Paint and teamed up with Chugoku Marine Paints to offer high-performance marine coatings and industrial paints.
Berger is now a diversified company that also provides food-grade and non-food grade metal containers to leading companies in Bangladesh.
Gross Profit increased by 6.3% in FY 2020-21 due to higher revenue growth and comparatively lower COGS growth. COGS grew by only 0.6% compared to the revenue growth of 2.8%. Gross margin improved from 38.5% in FY 2019-20 to 39.8% in FY 2020-21 as the company was successful in optimizing its COGS to remain competitive in the market.
Profit Analysis
Profit increased by 11.2% in FY 2020-21 mainly due to the company's drive towards cost efficiency. Operating expenses decreased by 2.7% in FY 2020-21 mainly due to a 3.3% decline in Selling, Distribution and Warehousing Expenses. Operating Income increased by 15.7% to Tk 3,535 Mn in FY 2020-21 from Tk 3,056 Mn in FY 2019-20.
Conclusion
Berger's focus on cost efficiency is proving to be successful as the company has maintained double-digit growth despite the country going through a coronavirus pandemic. It is expected the company will continue its focus on cost efficiency to remain competitive in the market. Product portfolio diversification is also one of the important goals of the company to remain a growth company in the long term.
For more updates, be with Markedium.