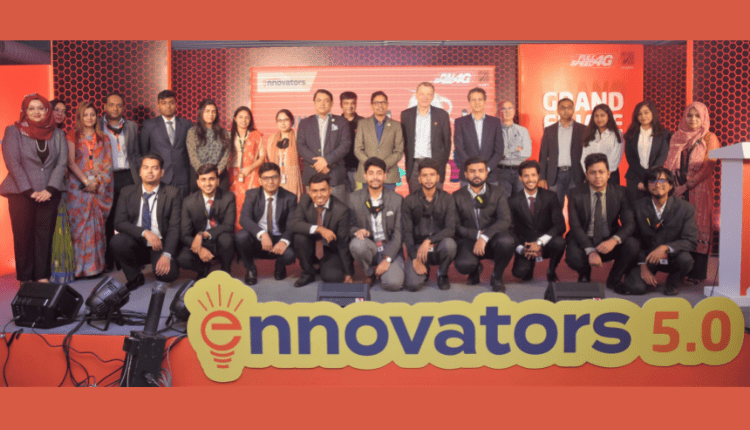 Banglalink Announces Top Three Teams at Ennovators 5.0 Grand Finale

2

min read
Banglalink has successfully completed the fifth season of Ennovators, a digital ideation program specially designed to inspire innovative young minds to come up with unique solutions. The announcement was made with the crowning of the top three teams at the Grand Finale, held at the Banglalink office yesterday, said a press release. Zunaid Ahmed Palak, MP, Honorable State Minister, ICT Division, joined the event as the Chief Guest. Syed Almas Kabir, President, Bangladesh Association of Software and Information Services (BASIS) was present as the external judge. Erik Aas, Chief Executive Officer, Banglalink, Monzula Morshed, Chief Human Resources and Administration Officer, Banglalink, along with other high officials, were also present.
This year, around 16,000 youngsters applied to compete. Following a rigorous selection process, the chosen applicants were given the opportunity to upskill themselves further under the guidance of experienced mentors.
Acing multiple rounds, five teams made their way to the Grand Finale, where they presented their ideas for the next big change in the telecom sector. The Jury board named the top three teams after evaluating all performances. Team Hustlers took first place, while Team Three Musketeers and Team Spearhead were named the first runner-up and second runner-up, respectively.
Every member of the winning team will receive an iPhone 13, while each member of the first and second runners-up teams will receive a laptop and a smartwatch, respectively.
Zunaid Ahmed Palak, MP, Honorable State Minister, ICT Division said, "We need to create more avenues for our young generation that will help them thrive and move the nation forward. Their contributions will pave the path to reach our goal of building a digital Bangladesh. I am pleased to see such an incredible initiative from Banglalink and hope that they will continue working to promote youth empowerment in the country."
Monzula Morshed, Chief Human Resources, and Administration Officer, Banglalink said, "We launched Ennovators aiming to encourage enthusiastic young minds to come up with innovative ideas. Considering the challenges posed by the pandemic, we had to conduct most parts virtually to ensure safety for all. However, our team effort paid off, and we were able to finish with resounding success. Some fantastic ideas came from the participants this year as well, and as part of our commitment to laying the ground for youth empowerment across the country, we will continue to organize more initiatives like this."
Banglalink has launched Ennovators in 2017 and been organizing the program ever since.