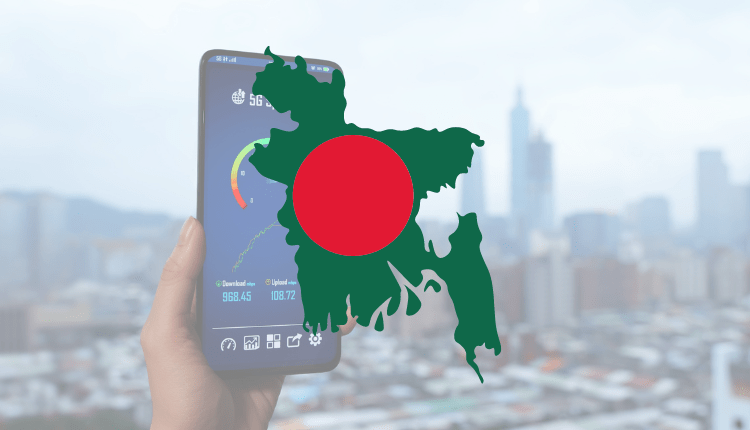 Bangladesh Ranked 121st In Terms Of Internet Speed

2

min read
According to Ookla's Speedtest Global Index 2022, Bangladesh ranks 121st out of 141 nations in terms of mobile internet speed. The country's initial download speed was 14.34Mbps in December of the previous year.
Qatar topped the rankings with a first-ever download speed of 169.51Mbps. The speedtest Global Index from Ookla. compares internet speed information from across the world. The index data is obtained from monthly speedtest tests done by genuine users.
Reportedly, Bangladesh was placed fifth out of the eight South Asian countries that made the list. Maldives rated top among them, with a global ranking of 25th. Its initial download speed was 67.96Mbps.
According to the Ookla assessment, Banglalink was the quickest of the five network providers in Bangladesh. Banglalink's first download speed in the fourth quarter (September-December 2022) was 19Mbps, followed by Grameenphone at 14.16Mbps and Airtel at 10.85Mbps.
In that era, Robi and Teletalk occupied the final two spots, with maiden download speeds of 10.61Mbps and 5.29Mbps, respectively. The merger of Robi Axiata and Airtel occurred in November 2016. Reportedly, Banglalink, Grameenphone, Airtel, and Robi have improved their internet speed.
Reportedly, Teletalk's speed, on the other hand, had dropped by 0.35Mbps compared to the previous year's average download speed of 5.64Mbps.
According to a BTRC report, the county's active mobile internet connections are dropping. The figure declined by 30 lakh to 11.34 crore between August and November 2022. According to BTRC officials, the commission monitors the quality of all mobile operators' networks on a regular basis. To that effect, a high-level technical inspection team was formed, and after the assessment, an inspection report was generated. Technical goals were also established, and all mobile network providers were given the information they needed to continue providing outstanding service.
According to the Speedtest Global Index 2022, the first download speed in Dhaka was 17.8Mbps. Dhaka ranked 140th out of 172 cities worldwide.
Read more: Microsoft Invests $10 Billion In ChatGPT Creator OpenAI
In terms of fixed broadband connection, Bangladesh was rated 104th out of 178 nations. 35.25Mbps was the initial fixed broadband download speed. Singapore took the lead in the fixed broadband category, with a first-ever download speed of 225.71Mbps.
For more updates, be with Markedium.