A Decade of Unbound Growth: Amazing Performance Facts of IPDC Finance

5

min read
IPDC Finance, the leading non-banking financial institution in Bangladesh, has demonstrated impressive performance over the past decade, achieving remarkable profit growth year after year. In the last ten years, the company has consistently outperformed its peers, establishing itself as the no 1 NBFI in the financial sector.
Today, we take a closer look at some of the amazing performance facts that showcase IPDC Finance's exceptional track record of profitability and growth. From its ability to weather economic challenges to its strategic expansion into new markets, IPDC Finance has demonstrated its resilience and adaptability in a dynamic and competitive landscape. Let's dive in to see how IPDC Finance has achieved this impressive feat of sustained success.
A Decade Of Consecutive Profit Growth
IPDC posted a profit of Tk 901 Mn in 2022 which was 2.3% higher than in 2021. The growth in profit is commendable given the adverse macroeconomic scenario which has resulted in more non-performing loans in the financing sector. The company was able to maintain profitability by being conservative in 2022 as it made Tk 500 Mn more provisions than regulatory requirements.
Mominul Islam, MD & CEO said in TBS about the profitability, "We had our maximum preparation to face the tough time even before the Ukraine war broke out. 2022 was not a year of continuing the previous growth and profitability, but we conservatively managed the annual performance"
Since the company's change of vision in 2015 to focus more on small and medium-scale clients, IPDC has grown its profit by 375.4% compared to that of 2015.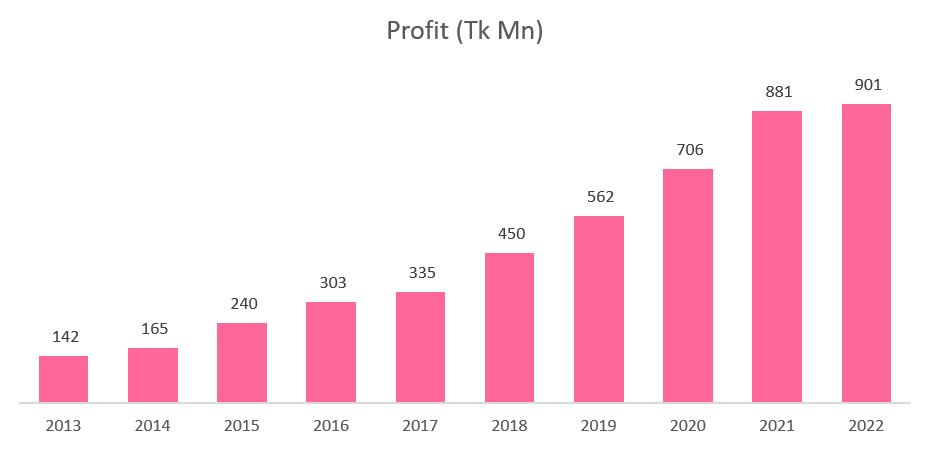 Continuous growth in Loan Portfolio
Profitability growth would not have been possible if IPDC was not able to grow its loan portfolio. Despite high competition in the financing market IPDC was able to grow its asset by 11.85 times from Tk 5,746 Mn in 2013 to Tk 68,106 Mn in 2022. It would not have been possible without an effective management team. Not only that the management was able to reduce the percentage of non-performing loans in the past nine years from 5.95% in 2013 to 3.15% in 2021.
Strong Credit Rating And Governance
Credit rating is an important indicator that provides credibility and assurance to investors and stakeholders that the NBFI is a trustworthy and reliable entity. This can lead to increased investor confidence, greater access to capital, and improved liquidity, all of which are crucial for the sustainability and growth of an NBFI.
IPDC has received an "AAA" rating in the long term and "ST-1" in the short term from Emerging Credit Rating Limited (ECRL). In simple words, it means that IPDC is one of the most stable NBFIs where depositors can keep their money without needing to think whether they would get their money back. The company has been able to keep a strong credit rating mainly due to its strong governance which has been ensured by the management.
The government of Bangladesh and BRAC are the two major shareholders of the company with 21.88% and 25% equity respectively. Hence, due to a combination of a strong board of directors and a capable management team, IPDC was able to reach newer heights every year.
SME/ CMSME Growth
Since the inclusion of BRAC as one of the board members, IPDC focused on small and medium-segment clients to grow its loan portfolio.
IPDC's strong commitment towards CMSMEs has ensured BDT 21,965 million portfolios which has been doubled in just 5 years.
With its value chain financing product Dana and Orjon, leading the value chain financing industry serving over 100K+ customers across the nation.
Moreover, the company has been instrumental in the financing of women entrepreneurs for the last 5 years. The company launched Joyee for SME women entrepreneurs to give better loan packages and services to clients.
IPDC's loan to women entrepreneurs has doubled in the last year.
The company launched a digital supply chain finance platform Orjon for small and medium enterprises and has become the top financier in supply chain finance among the NBFIs.
Retail Growth
Just like in the SME sector, IPDC is growing its market share in the retail segment with continuous product development. The company has created a retail financing platform 'Dana' to cater to retail customers. With this financing, the company aims to reach thousands of retail customers across the country.
Recognition and Accolades
As a token of appreciation for the continuous improvement in developing the industry, IPDC Finance has been recognized with numerous accolades over the years. Here are some of the recent ones,
Cannes Lion:
IPDC along with Grey Advertising Bangladesh and Amal Foundation won Silver Lion and Bronze Lion awards at the Cannes Lions International Festival of Creativity in 2022 for introducing the 'Child Marriage Prevention Loan'.
Read more: IPDC and Amal Foundation Joined Hands To Solve Bangladesh's One Of The Core Problems
The project achieved a Silver Lion in the Brand Experience & Activation category, a Bronze Lion in the Sustainable Development Goals category, and a shortlist in the esteemed "Glass: The Lion for Change" category that deals with women empowerment, along with another shortlist in a subcategory under Sustainable Development Goals.
Check out the project here:
The project got nationally recognized by Brand Forum Bangladesh as well and won 2 Grand Prix & 1 Gold at the COMMWARD 2022.
Sustainability Rating from Bangladesh Bank:
In 2022, IPDC has been recognized as one of the few financial institutions that have achieved the sustainability rating target set by Bangladesh Bank for the years 2020 and 2021. IPDC was among only 5 NBFIs that received recognition from Bangladesh Bank.
Gold at ICMAB Best Corporate Award:
IPDC won Gold Award at the ICMAB Best Corporate Award 2021 under the non-bank financial institution (NBFI) category.
Read more: Mastercard, ShareTrip & Eastern Bank Limited Launch Bangladesh's first Co-branded travel credit card
In conclusion, IPDC Finance's exceptional performance over the past decade is a testament to its commitment to growth, innovation, and sustainability. The company also extended its services and inaugurated 3 more branches in 2022 taking its total number of branches to 15. All three branches are situated outside Dhaka showing the company's commitment to growing its business across the country. The three branches are in Faridpur, Khulna, and Rangpur.
With 10 years of consecutive profit growth, the company has established itself as a leading player in the non-banking financial sector in Bangladesh. From its strategic focus on customer-centric services to its strong risk management practices, IPDC Finance has demonstrated a deep understanding of the needs and challenges of its clients and the market. As the company looks to the future, it will undoubtedly face new challenges and opportunities.
For more updates, be with Markedium.