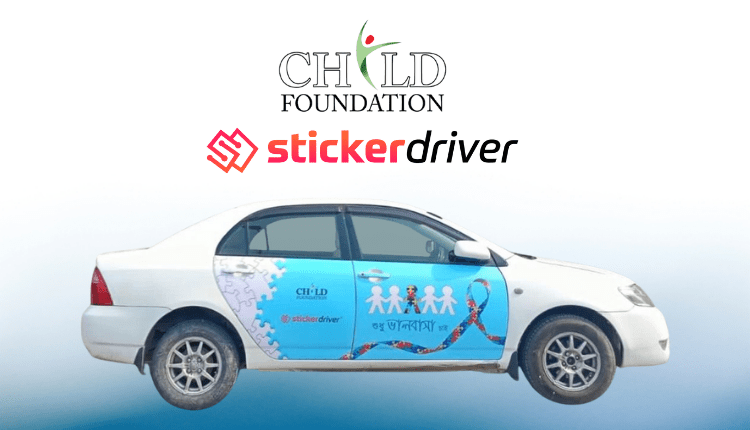 Sticker Driver And Child Foundation Joined Hands To Raise Awareness About Autism

2

min read
Sticker Driver and CHILD Foundation have jointly launched the week-long "Autism Awareness Raising Campaign 2022" on 9th April, said a press release.
This week-long campaign is basically an attempt to make the general public become aware of various aspects of autism. This is celebrated in recognition of children, individuals, and their loved ones with autism. On this occasion, people all over the world organize programs and educational activities related to autism throughout the month of April. The goal is to understand children and individuals with autism and increase their acceptance worldwide.
In this initiative, Sticker Driver has fully equipped ride-sharing cars with outdoor and indoor banner ads on various aspects of autism. These special vehicles will travel throughout Dhaka city, try to spot a few of these when you are commuting.
The Child Foundation is a private, non-political voluntary organization. Which has been working for children, youth, and adults with special needs since 2016, and is constantly working to ensure their improved quality of life. Throughout the year, they organize programs, workshops, and training for people with special needs. They are also committed to their mental health as well as financial well-being. They have always strived to increase the employment of people with special needs. With that in mind, they started the journey of a global brand called "Patu". Where a few young designers with autism features are working. One of those designers is organizing this car awareness campaign.
"Sticker Driver" is the first Bangladeshi OOH Ad-Tech Startup that connects Brands with Ride-sharing vehicles and Drivers through whole body sticker ads on vehicles and many more ad features inside of those vehicles. In recent times they have proved to become an effective medium for brands to communicate with their customers. Sticker Driver has added a new dimension to advertising in Bangladesh. Sticker Driver appreciates all organizations, like CHILD Foundation, working towards such a good cause. Sticker Driver is always looking forward to working on many more campaigns, to effectively make a positive impact.
Sticker Driver and CHILD Foundation hope that through this campaign, at least some of the general public will know and become aware of important information about autism.
For more updates, be with Markedium.