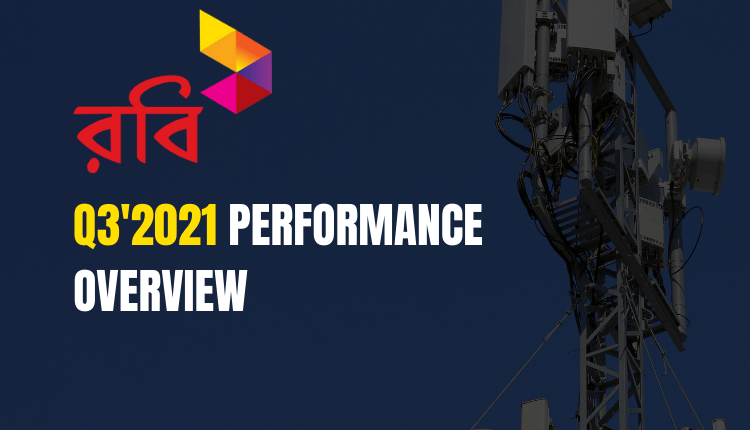 Robi's Profit Increased By 122.3% In Q3'21

1

min read
Robi, the second largest telecom company in Bangladesh has recently its Q2 financial report for the year 2021. Revenue of the company in Q3'21 was Tk 20,850.0 Mn compared to Tk 19,337 Mn in Q3'20. Revenue grew by 7.8%. Profit after tax of the company increased by 122.3% YoY. Profit after tax in Q3'21 was Tk 865.0 Mn which was Tk 389.0 Mn in Q3'20. Profit after tax increased mainly due to growth in revenue and efficient cost management.

Mobile Subscribers
---
Mobile subscribers of the company have grown by 5.8% YoY from 50.1 Mn in Q3'20 to 53.0 Mn in Q3'21. About 74.0% of the total subscribers are internet subscribers which is the highest percentage of data users in the industry. Internet subscribers have grown from 34.7 Mn in Q3'20 to 39.2 Mn in Q3'21. The higher growth in internet subscribers shows the shift of focus of the company towards data revenue.
Data Revenue
---
Data Revenue has been the main driver of revenue growth for Robi. Data revenue grew by 8.6% YoY due to growth in internet subscribers and growth in internet consumption per user. The internet subscribers have increased by 13.0% YoY from 34.7 Mn to 39.2 Mn subscribers. Internet consumption per user has increased by 47.4% due to increased 4G sites and different promotional offers related to data. MB per subscriber was 4,369 MB in Q3'21 which was 2,964 MB in Q3'20.
Future Ahead
---
Robi is growing steadily as its' focus on data is paying off. Data revenue now contributes to about 40.2% of the total revenue. 4G subscribers grew by 51.5% YoY. The overall telecom industry has shifted its focus on data revenue as voice revenue is declining due to the popularity of OTT platforms like WhatsApp, Messenger, etc. It is expected that data revenue will be the main revenue growth driver of the company.
For more updates, be with Markedium.