Microsoft Launches Startup Founders Hub in Bangladesh

3

min read
Microsoft founders hub is now in Bangladesh to advance innovative and ambitious local startups. To begin with, this platform allows free access to its resources. For example, efficiency and technology tools for startup organizers hoping to send off their projects and materialize their thoughts into the real world. In another word, the hub is an effort to help innovative and ambitious startups globally.
In this instance, people will have access to cloud platforms. For example, Azure toolboxes, Microsoft 365, GitHub Enterprise, and Visual Enterprise. Additionally, this program offers guidance and empowerment in the form of personalized mentorships. Hence, ambitious entrepreneurs will get the opportunity to learn from giants of the industry. In fact, these experts will guide them in every step of their startup journey.
Further, Microsoft for Startups Founders Hub provides access to more resources. Like, Microsoft Learn and startup, and unicorn programs. These designed programs help businesses build target audiences and connections for rapid growth. In short, you will get access to over $300,000 worth of benefits. Hence, funding your dreams will no longer be an issue.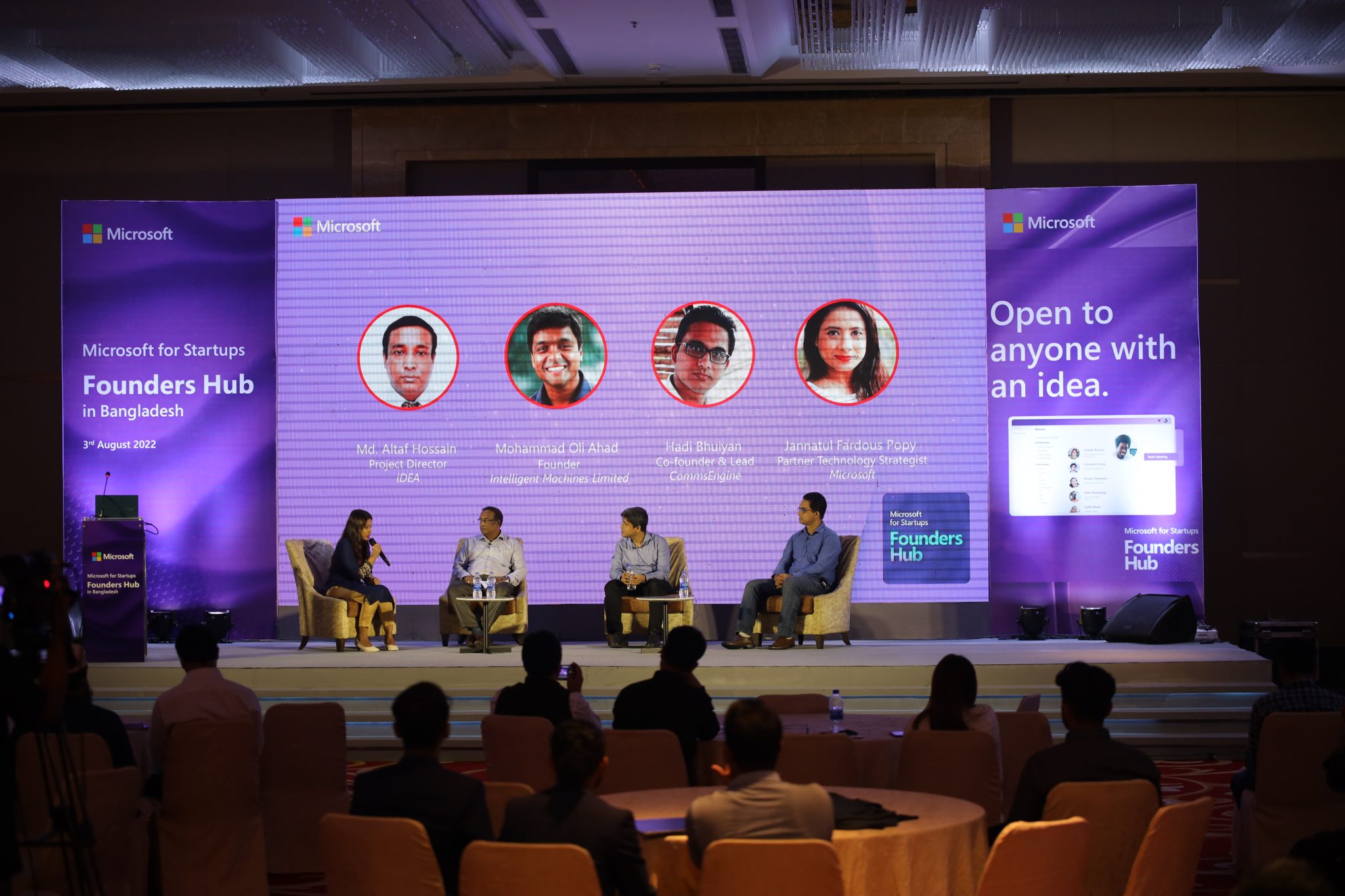 At this moment startup scene of Bangladesh is ever-growing, having a 1.5 million-strong workforce. Therefore, Microsoft wants to leverage them to boost its growth.  Consequently, Microsoft's initiative allows them access to essential technology and tools. With a view to filling out the bridge gaps and playing a key role in helping them grow. Especially, the Founders Hub emphasizes early-stage startups without prior support. To simplify, it does not require verification of funding, or affiliation with VC, accelerator, or incubator. Hence, it is paving the way for enthusiastic founders in Bangladesh to enter the program. The hub wants to evaluate the strength of its ideas and aspirations.
Md Yousup Faruqu, Managing Director for Microsoft Bangladesh stated in the report, "Microsoft for Startups Founders Hub, a founder-first program designed to meet unique needs, is a timely provision for the Bangladeshi startup ecosystem, especially with its aim of broadening avenues of access to founders. With an environment and a community that facilitates rapid digitization and adaptation of new technology, local startups have the capacity to drive social transformation across all cross-sections of society."
This is not their first initiative to enable Bangladeshi startups to blossom. Microsoft Asia and global startup platform "She Loves Tech" announced a multi-year partnership in Bangladesh. Their intention was to help women-led startups through Microsoft technologies. Further, to create a network of fellow female founders that will help guide their dreams.
Not to mention, this will be a huge boost for local start-up culture and its ambitious, tech-savvy youth population. To date, Bangladesh established a name for itself in the global startup landscape by amassing over the US $727 million in investments. Especially, on successful fintech, logistic and mobility, e-commerce, and retail-oriented startups.
At present, new startups in Bangladesh is in need, need of speed. To sum up, it will now be easier than ever for Bangladeshi startups to kickstart their journey through Microsoft's initiative. For more updates, be with Markedium.