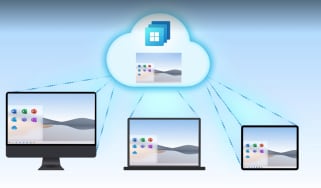 Microsoft announces Windows 365, a cloud PC service

1

min read
Microsoft has announced a new cloud PC service "Windows 365" that will let businesses access Windows 10 or 11 versions of Cloud PCS from anywhere.
Reportedly, Windows 365 will work on any modern web browser or through Microsoft's Remote Desktop app. Users can access their Cloud PC from a variety of devices such as Macs, IPads, Linux machines and Android devices.
Windows 365 will launch on 2nd August 2021, available only for businesses with a monthly subscription per user. As per reports, there will be two editions of Windows 365, Business and Enterprise.
For details, click here!