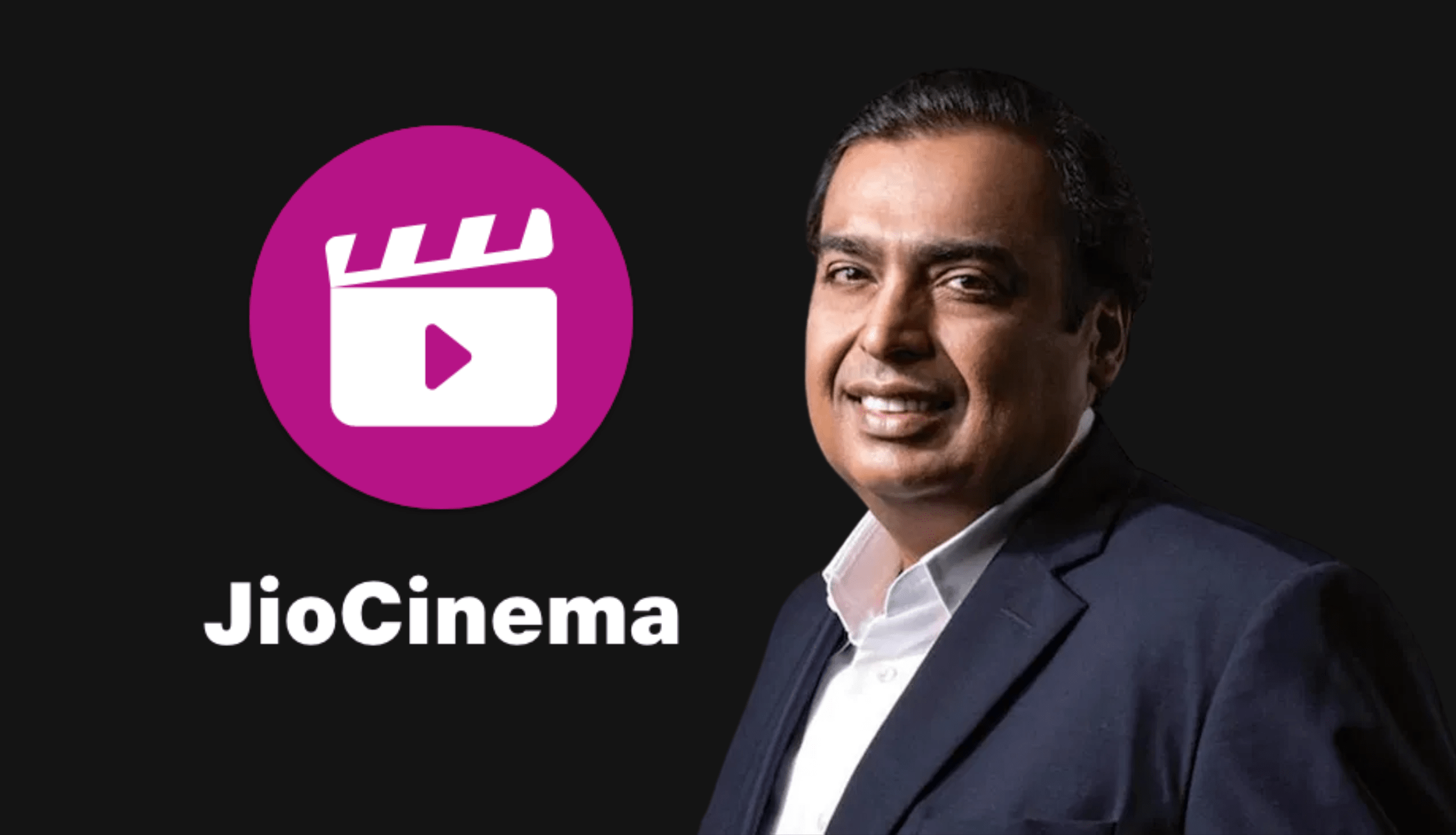 JioCinema: The Rising Dynamo In The Global OTT Landscape

5

min read
In the dynamic realm of digital media, innovation often spells the difference between mere survival and true market leadership. It is in this context of ceaseless evolution and boundless opportunity that JioCinema, the brainchild of Mukesh Ambani – India's wealthiest magnate and the force behind Reliance Industries, is making waves. This OTT platform is more than just a contender in the streaming wars; it's an embodiment of a forward-thinking vision that has the potential to redefine the industry's landscape.
As we delve deeper into JioCinema's journey, we will examine its strategic initiatives, assess its standing in the competitive OTT market, and evaluate its growth prospects. We'll also take a close look at the burgeoning Indian OTT market, a fertile ground for digital entertainment, which is currently witnessing a remarkable growth trajectory.
Let's dig deep!
In an industry first, JioCinema has successfully digitally broadcasted the Indian Premier League (IPL) with a unique Zoom feature, allowing viewers to zoom in and focus on any part of the live-streaming action. This has significantly elevated user experience and engagement, setting a new standard for sports broadcasting on digital platforms.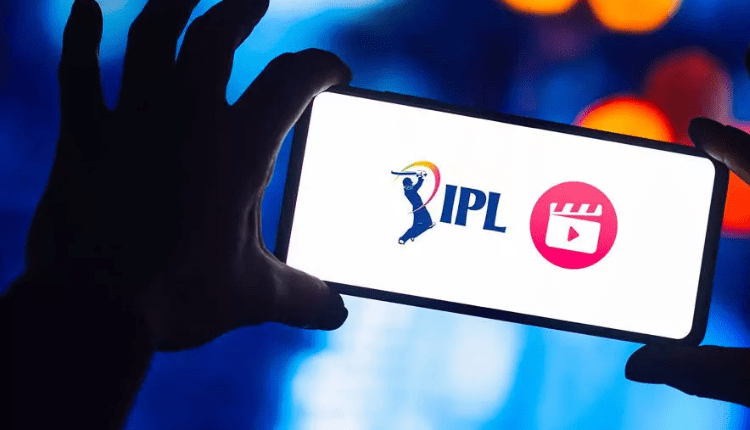 Read more: The Art of Negative Space Content Creation – The Coca-Cola Way
Additionally, JioCinema's strategic acquisition of cinemas marks a foray into the hybrid model of entertainment, blurring the lines between traditional and digital media. It has secured deals with Warner Bros' Discovery for HBO's series, Max Originals' shows, current and future Warner Bros. blockbuster films, and with NBC Universal for films and TV series.
In a move that delineates its strategy, the platform has kept premium content behind a paywall while also offering free content to appeal to a broader audience. This includes in-house productions like "Bloody Daddy" and upcoming releases like "Zara Hatke Zara Bachke"
However, JioCinema's viewer base saw a significant dip post-IPL, from 65 million daily active users (DAUs) to about 15-18 million. Yet, this number is a significant improvement from the 4 million DAUs that Voot, which is now merged with JioCinema, used to garner. This indicates a potential for growth, particularly with Viacom18 executives expecting a jump in viewership with the launch of popular reality shows like "Bigg Boss" on the service.
Emerging Trends in the OTT Industry
As we delve into the OTT landscape, a few key trends emerge. Firstly, the lines between digital and traditional broadcasting are increasingly blurring, with digital platforms now hosting live events. Secondly, there is a shift towards local content, as OTT platforms are investing heavily in creating regional and vernacular content to reach a wider audience. Lastly, there's an increasing integration of advanced technology to enhance user experience – AI, machine learning, and VR are becoming integral to OTT services.
The Indian OTT market itself is burgeoning, with Statista projecting revenues to reach $3,824.00m in 2023 and a user base of 528.90m by 2027. The average revenue per user (ARPU) is projected to be $8.96 in 2023, and the user penetration is expected to increase from 30.0% in 2023 to 36.0% by 2027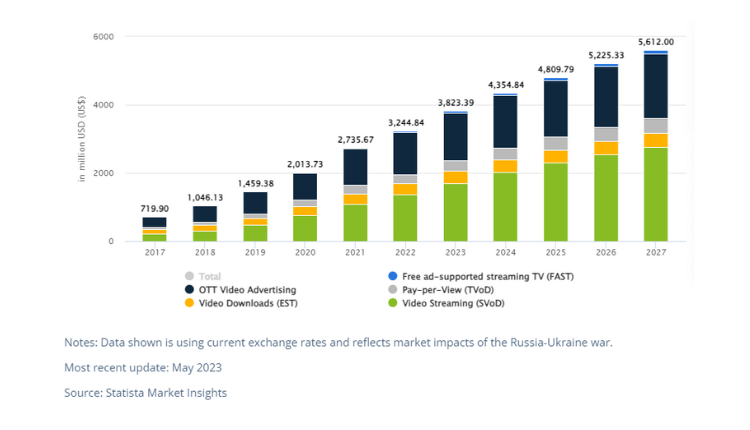 In the highly competitive OTT market, there are several dominant players that JioCinema must contend with. Some of these include Microsoft, Limelight Networks, Netflix, Google, Yahoo, Tencent, Akamai, Apple, and Facebook, each bringing its own strengths and strategies to the table.
Read more: A Bitter Cup: How Starbucks Lost the Australian Coffee Battle
Netflix, for example, has long been the global leader in OTT services, with an extensive library of diverse content that spans numerous genres and languages. The company's success lies in its commitment to original content creation, strategic partnerships, and a user-friendly interface.
However, Netflix's pricing strategy could be a potential weakness in price-sensitive markets like India, which JioCinema could capitalize on and also currently focusing on doing so.
Google's YouTube is another significant player with its vast user-generated content and a burgeoning platform for premium content, YouTube Premium. However, the ad-supported model can be intrusive for some users, creating a potential opportunity for ad-free platforms or those with less intrusive ad models.
Companies like Microsoft, Apple, and Facebook are leveraging their existing user base and extensive ecosystems to promote their OTT services. Microsoft's Xbox platform, Apple's Apple TV+ and Facebook's Watch are all seeking to carve out their niche in the OTT market.
Then there are the local competitors like Hotstar, owned by Disney, which has a substantial user base due to its exclusive streaming rights for popular cricket tournaments and local content. Amazon Prime Video is another contender that is gaining ground with its mix of international and local content, and value-added services like Amazon Prime delivery.
JioCinema, in this scenario, has the opportunity to leverage its deep understanding of the Indian market, strategic partnerships in the entertainment industry, and the massive user base of its parent company, Reliance Jio.
Read more: From We to Me: The Fall of Adam Neumann and WeWork | Lessons for the Next-Gen Entrepreneurs
The company's recent actions, such as the digital broadcasting of IPL with a zoom feature and buying cinemas, suggest a focus on enhancing user experience and expanding its content library. However, success in the Indian OTT market will require more than just competitive pricing or expansive content. It will involve a complex interplay of content strategy, user experience, marketing, and partnerships.
Adding on, some challenges lie ahead for JioCinema. For example, while JioCinema has seen success with its IPL broadcast, the shift from Hotstar to JioCinema revealed that audiences are largely brand agnostic when it comes to live events. This means that while JioCinema can attract audiences with big-ticket events, retaining these audiences for its other content offerings will be crucial to sustaining its growth
Read more: Navigating the Impact of Tax Reforms on Bangladesh's Beverage Industry
In conclusion, JioCinema's entry into the OTT market has added a new dimension to the competition. Its bold moves and substantial investment in premium content have the potential to redefine the market dynamics in the coming years. Global investors, like Sequoia Capital or Softbank, may find the platform's aggressive strategy and growth potential intriguing.
It is important to note that the information on recent acts like the digital broadcasting of IPL and the content plans of other OTT platforms is based on data available as of mid-2023. The dynamic nature of the OTT landscape may see new developments and strategies in the future.
It may be too early to declare the frontrunners and the also-rans in this OTT race, but the real winners are the content producers, actors, directors, and writers, as the increased competition leads to more opportunities and a richer ecosystem of content.
For more updates, be with Markedium.