Dove and Teach For Bangladesh Assist 1,000 Youngsters to Develop Self-esteem and Confidence.

2

min read
Dove Day, an initiative of Unilever's Dove Self-Esteem Project (DSEP), was celebrated in schools across Dhaka and Chittagong during the previous week. According to a news release, over 40 Unilever Bangladesh workers led engaging workshops with 1,000 schoolchildren in Teach For Bangladesh (TFB) classrooms to improve self-esteem and body confidence.
Teach For Bangladesh, a non-profit organization dedicated to delivering quality education to every child in Bangladesh, was the event's implementing partner.
Dove, a Unilever personal care brand, conducts the self-esteem initiative, which emphasizes that beauty should be a source of confidence, not stress, and tries to restore faith in the next generation so that they may reach their full potential. To conduct the seminars in schools for Dove Day, Unilever Bangladesh employees had to go through a training session led by TFB in-house program professionals.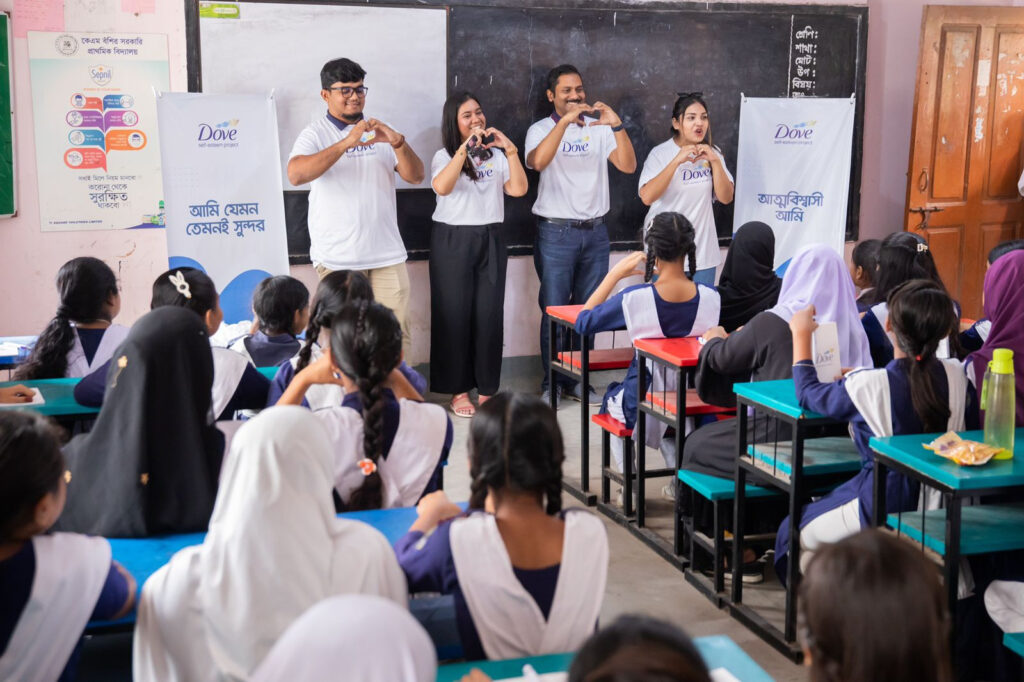 Students were taught about cultural pressures on physical beauty and the influence they might have on self-esteem during seminars held in both areas. They also explored the influence of social media on beauty perception, which frequently makes individuals appear unnaturally gorgeous. Students learned via discussions and insight sharing that concentrating on their own ability and individuality rather than comparing themselves to others will help them create confidence and self-esteem. The training session focused on the 'Confident Me' module, which was created and re-framed by Unilever and TFB in 2021.
"Eight out of ten girls are so concerned with the way they look that they opt out of important activities. On Dove Day, along with our team members, we want to ensure that young people grow up enjoying a positive relationship with the way they look. That is why we are actively working to help them raise their self-esteem and realize their full potential."

-Afzal Hassan Khan, Marketing Director of Beauty & Well-being and Personal Care, Unilever Bangladesh.
Further, Teach For Bangladesh's acting CEO, Ijma Rahman, stated, At TFB, 'we believe that every kid is worthy of love, dignity, and belonging. We are convinced that by working with Unilever on Dove Day, our kids will learn that beauty standards are a societal construct and that they are valued and wonderful just the way they are.TFB wants to help youngsters reach their greatest potential. We are happy to have executed this event with this common purpose between the two organizations.'
Dove has been encouraging women for over 60 years to consider beauty as a source of confidence rather than anxiety. The Dove Self-Esteem Project, which began in 2004 worldwide, is a continuation of this.
Dove has established an objective of teaching 5 million youngsters in Bangladesh about self-esteem and body confidence by 2030 in order to create a confident future generation.