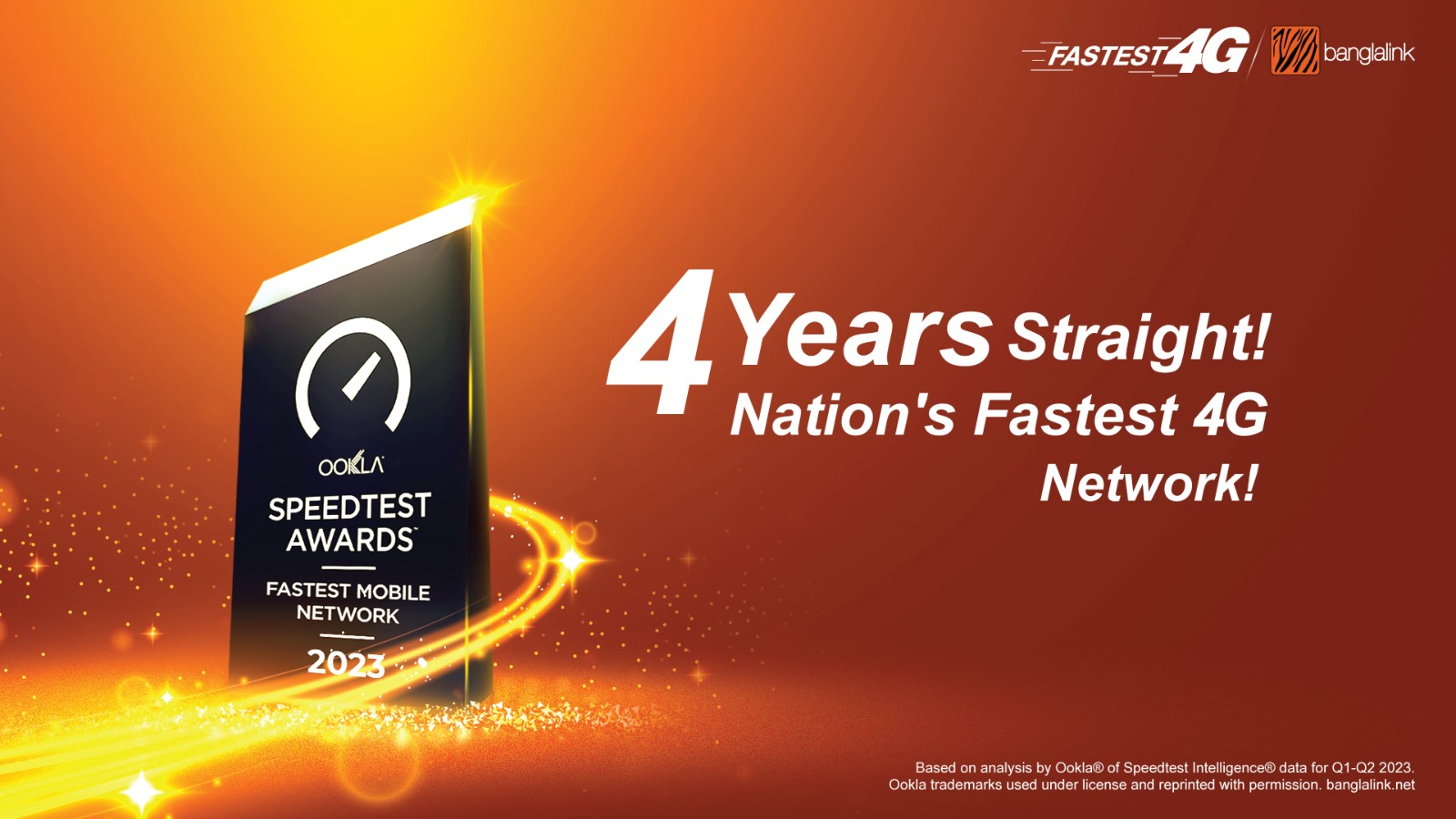 Banglalink Wins Ookla Award for the 7th Consecutive Time

2

min read
Banglalink has won the Ookla® Speedtest Award™ as the Fastest Mobile Network in Bangladesh for the 7th consecutive time in 4 years. A Speed Score™ of 28.77 contributed to retaining its top position on Ookla's Speedtest report for Q1-Q2 2023. Drawing from millions of daily results gathered through the Ookla Speedtest® app, it offers the most accurate and comprehensive view of worldwide network performance, quality, and accessibility.
With a network of over 14,000 sites across Bangladesh, alongside the highest spectrum allocation per subscriber, Banglalink has seamlessly upheld its enduring dominance in speed throughout the first half of 2023. This achievement has been fortified by Banglalink's unparalleled network quality and innovative digital services, resulting in the remarkable milestone of a strong subscriber base of over 4 Crore subscribers this year.
Commenting on the achievement, Erik Aas, CEO, Banglalink, said, "Banglalink has consistently prioritized network quality, which is evident by the 7th consecutive Ookla® Speedtest Award™. Our network superiority is accelerating our growth as a Digital Operator, enabling customers to smoothly access our diverse digital services. We aim to utilize our fastest 4G network to continue providing best-in-class mobile telecommunication services and one-stop digital solutions through MyBL Super App and Toffee."
"Ookla's Speedtest Awards Program recognizes the top fixed and mobile providers from around the world, providing consumers with access to reliable and accurate data to make informed decisions about their internet service providers," said Stephen Bye, President and CEO, Ookla, a division of Ziff Davis. "We are proud to acknowledge Banglalink as the Fastest Mobile Network in Bangladesh for 4 consecutive years. This prestigious award is a testament to the hard work and dedication of Banglalink to consistently providing the Fastest Mobile Network in the market."
Banglalink will remain committed to providing strong network coverage, quality digital services, and the fastest internet speed across the country.
For more information on Ookla, visit:
https://www.speedtest.net/awards/bangladesh/2023/?award_type=carrier&time_period=q1-q2
For more updates, be with Markedium.