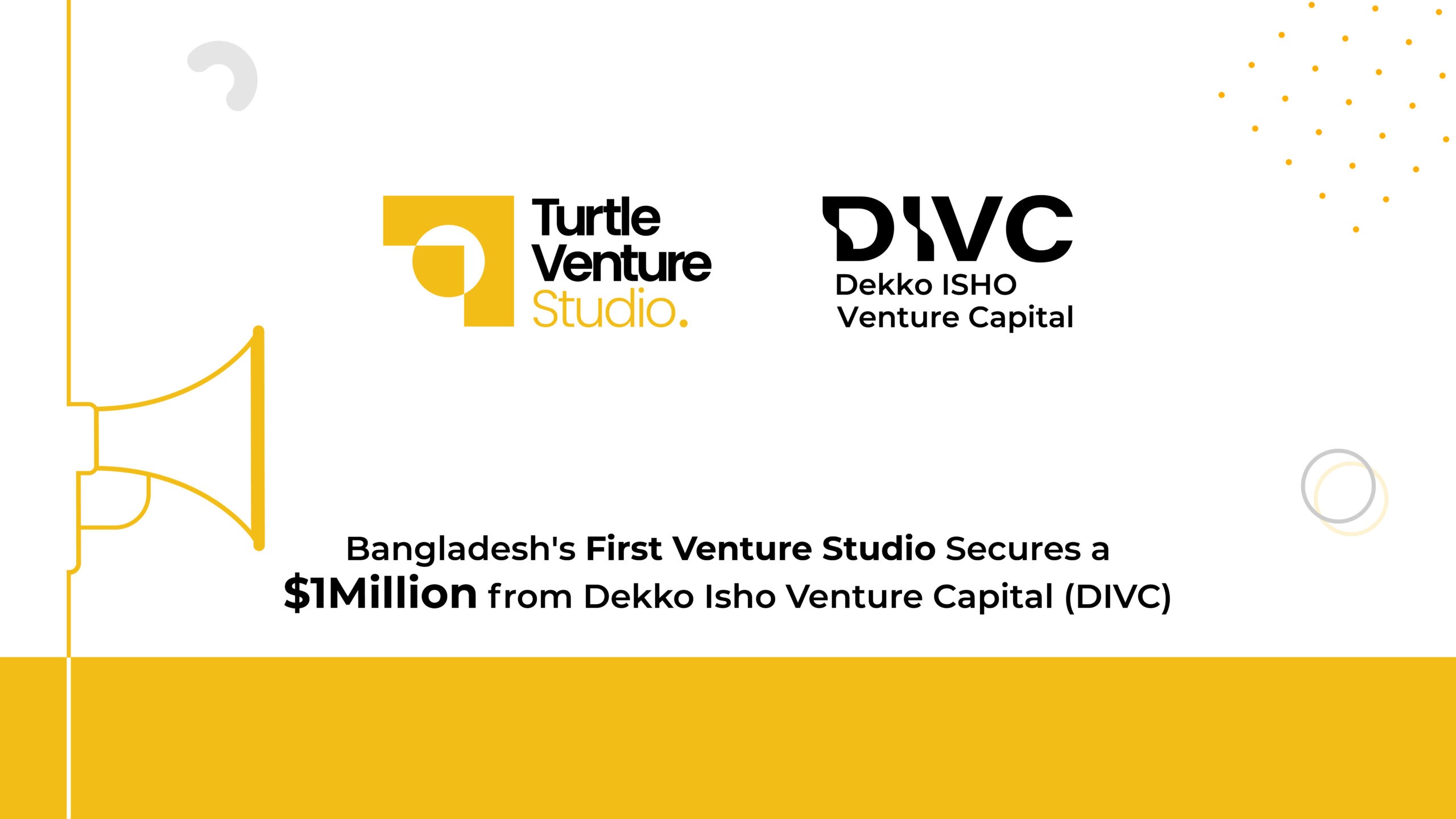 Bangladesh's First Venture Studio, Turtle Venture Studio, Has Raised USD $1 Million In Its First Round Of Funding

4

min read
Bangladesh's first venture studio, Turtle Venture Studio, has raised USD $1 million in its first round of funding, with Dekko ISHO Venture Capital (DIVC) as the lead investor, said a press release.
DIVC is a notable investor that focuses on sustainable business models and practices. This investment is an important milestone for both Turtle Venture Studio and DIVC, and it highlights the growing interest in Bangladesh's entrepreneurial ecosystem. 
Turtle Venture Studio was established in 2022 by Saraban Tahura Turin and Anwar Sayef Anik, two young entrepreneurs with a mission to foster ground-breaking startups in Bangladesh and beyond. The venture studio was launched in Singapore and is set to introduce its first cohort in 2023. Selected startups will benefit from funding, mentorship, access to a global network, and strategic support. 
Read more: The ACI-Colgate Joint Venture- Here's The Why!
DIVC, established in 2021, is one of Bangladesh's leading institutional investors. It seeks to identify and support startups with sustainable business models that have the potential to disrupt traditional industries and improve social and entrepreneurial challenges. DIVC is particularly interested in startups focused on IoT, deep tech, clean tech, and agri-tech, as well as those that address social and environmental causes. 
The Investment
---
Turtle Venture Studio's portfolio of startups is set to receive a major boost, thanks to a USD 1 million investment from Dekko ISHO Venture Capital (DIVC), said the press release. The funding will not only support the growth and development of the studio's startups but also facilitate the expansion of its team and infrastructure and the exploration of new opportunities both locally and globally.
The studio plans to use the funding to support startups by building a mentorship network, providing marketing support to selected startups, launching an exclusive graduate program in Singapore, partnering with industry leaders to provide entrepreneurs with cutting-edge infrastructure and tools for success, and providing funding to each Cohort-1 startup. 
Read more: Dhaka Bank Launches The End to End Digital Loan App 'Dhaka Bank eRin'
Mr. Prottoy Hossain, CEO of Dekko ISHO Venture Capital quoted, "Startups need careful attention and nurturing. Merely exposing them to the competitive market without adequate support could result in the failure of most. Our goal is to ensure that every startup we work with achieves success. We are delighted to support Turtle Venture Studio's vision of building a thriving startup ecosystem in Bangladesh and are excited to be part of this journey." 
Turtle Venture Studio will support startups and help them grow. Turtle Venture Studio has partnered with industry leaders like Microsoft for Startups, AWS, Carta, and others to provide entrepreneurs with cutting-edge infrastructure and tools for success.
Selected startups will receive exclusive marketing services for 12 months from Dekko ISHO Venture Capital, complimentary to their funding. Cohort-1 startups receive USD $125,000 in funding and other forms of support, such as mentorship and access to connections from around the world. The studio also collaborates with successful entrepreneurs to build a mentorship network.
Through Demo Day in Singapore, Turtle Venture Studio is bringing together Bangladesh's finest entrepreneurs with the dynamic Singaporean startup ecosystem, creating a potent nexus of innovation and opportunity.
Read more: bKash Posted Profit After 3 Years
The Cohort-1 application process has concluded with a remarkable response from startups across various sectors, including SaaS, PaaS, green tech, e-commerce, insurance tech, and supply chain. The cohort promises to be diverse, with 20% of female-led companies among the selected startups. 
Under the guidance of Saraban Tahura Turin, Turtle Venture Studio is dedicated to turning the aspirations of ambitious entrepreneurs into reality. The venture studio is nurturing the next wave of startups in Bangladesh and beyond by providing unrivaled resources, mentorship, and support. Their mission is to empower founders to build sustainable businesses that solve real-world problems and positively impact society.
Co-founder and COO of Turtle Venture Studio, Anwar Sayef Anik, expressed his excitement, ''We are thrilled to partner with these startups and offer them the vital resources they need to reach their full potential. We believe that these startups have the power to revolutionize their respective industries, and we are dedicated to ensuring their success.'' 
Dekko ISHO Venture Capital's investment in Turtle Venture Studio is a testament to the potential of venture studios in Bangladesh and the confidence experienced market leaders have in their success.
To learn more about Turtle Venture Studio and its ground-breaking initiatives, visit www.turtleventure.studio. For more updates, be with Markedium.