Unlocking Tomorrowland 2023 With Charge Beyond | A Once In A Life Time Opportunity For You

2

min read
Music has always been a universal language with the power to transcend barriers and unite people across borders and generations. And there is no better manifestation of this unifying force than musical festivals. Regardless of genre, musical festivals offer meaningful memories and unforgettable experiences for music enthusiasts. These events are where a shared passion for music takes center stage.
Read more: Telecom Veteran Varinder Paul Singla Takes the Helm as CIO of Robi Axiata
Founded by two brothers, Manu, and Michiel Beers, in 2005, Tomorrowland is an Electronic Dance Music festival- a fantastic example of a music fest offering shared musical experiences. Held in the town of Boom in Belgium, Tomorrowland is one of the largest and most well-known music festivals worldwide, attracting hundreds of thousands of visitors each year.
Year after year, Tomorrowland has been setting the bar for the most incredible global musical festival. From 8700 attendees in its first year in 2005, Tomorrowland has come a long way, and in 2022, it has united 600,000 visitors worldwide with almost 800 performing artists spread across the two weeks. Since its inception, Tomorrowland has evolved immensely with an inspiring creative journey.

With a customer-centric approach and unique creative storytelling, the festival has evolved beyond the realm. Tomorrowland is now a global platform of mesmerizing fantasy; it is a way of living through love.
Tomorrowland is back, with its latest edition taking place across two weekends from July 21-23 and July 28-30, 2023. Featuring the theme Adscendo, Tomorrowland 2023 is all set to bring a magnificent adventure, taking creative storytelling to new heights for the 'People of Tomorrow.'
Tomorrowland is releasing the complete origin story of the 2023 theme with a fantasy adventure novel: THE RISE OF ADSCENDO. A first of its kind, the novel will introduce fans to the world behind the mainstage, theme, characters, and all the secrets to the enchanting Tomorrowland universe.
Millions of people register for tickets from every country in the world, but only the lucky ones get the opportunity to visit the festival.
This year, the one-of-a-kind astronomical event is now available for lucky Bangladeshi music enthusiasts! Charge Beyond has collaborated with Tomorrowland to bring the experience of Tomorrowland – an excellent opportunity to visit the iconic festival with all expenses covered!
To participate in the contest, participants must visit the website, and fill in the information required, then share the post on their profiles to complete the process. The lucky participants of the contest will get the chance to unite with the people of tomorrow in Dreamville.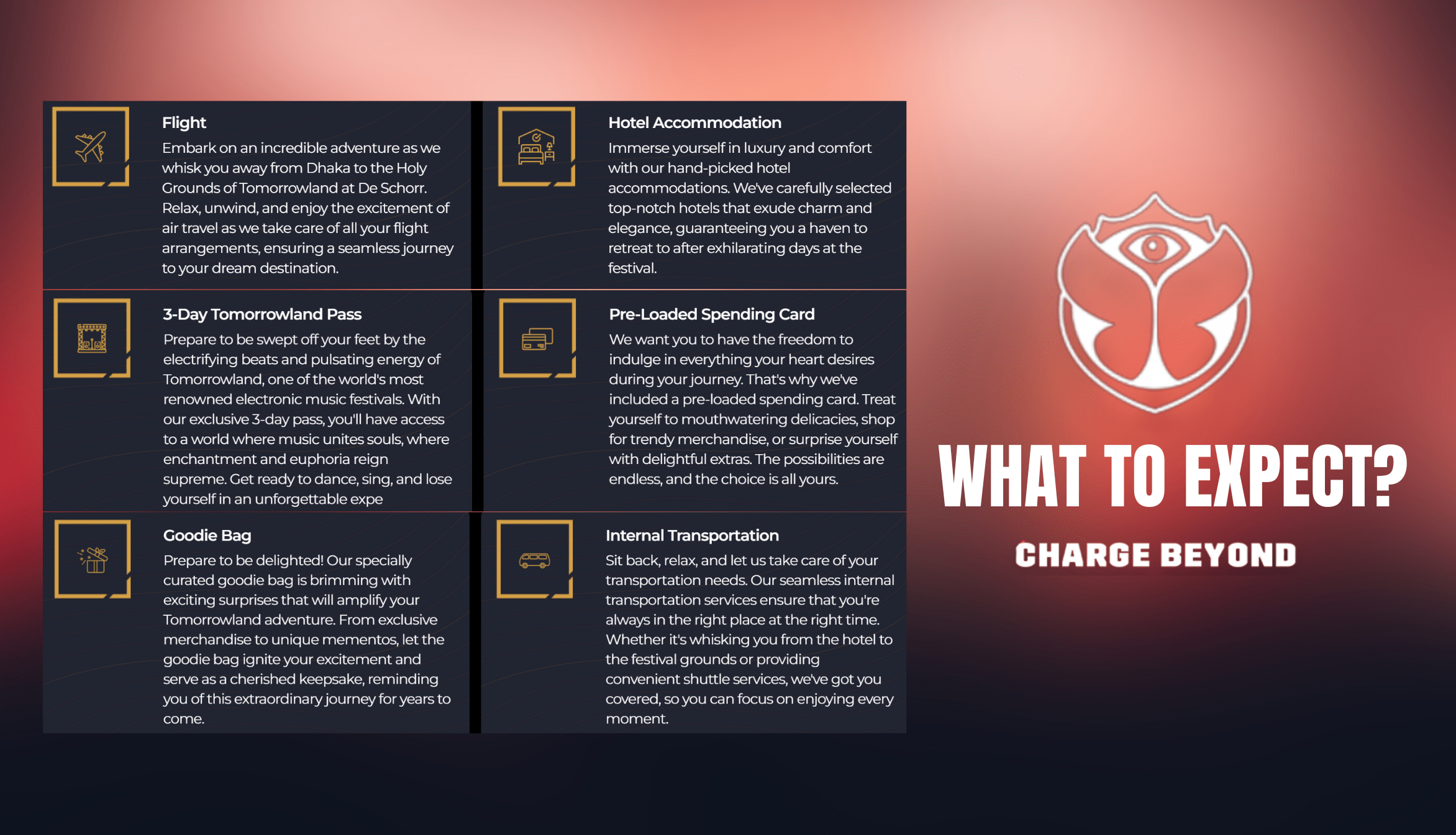 Music festivals foster transformative experiences, bring people together, ignite passions, and create meaningful memories. Grand festivals like Tomorrowland celebrate the spectacle of the 'People of Tomorrow' with stellar experiences that last a lifetime.
For more updates, be with Markedium.