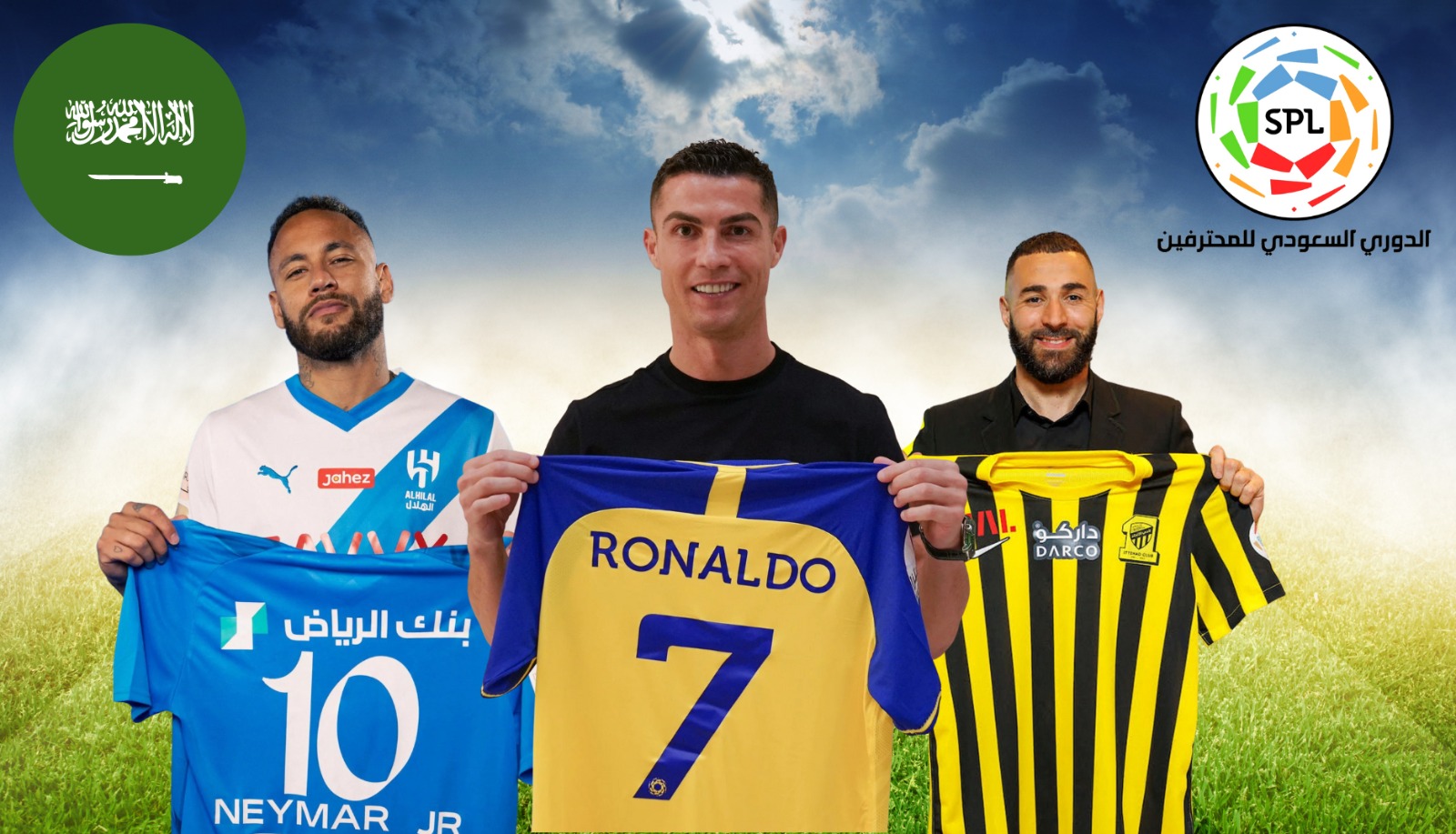 The New Kings of Football: Saudi Arabia's Billion-Dollar Game

3

min read
In a world where sport and politics often collide, the line between investment and influence has never been blurrier. Enter Saudi Arabia – a nation quietly orchestrating one of the most significant shifts in the global football market.
The recent transfer of renowned players like Cristiano Ronaldo and Karim Benzema to Saudi clubs is more than just a star-studded surprises. It's emblematic of a calculated play by Saudi Arabia to position itself as a dominant force in the football realm.
The shock of Saudi Arabia's national team overcoming football giants Argentina was short-lived. Just weeks later, Ronaldo's unexpected move to the Saudi Pro-League, once considered the 68th biggest league globally, was met with astonishment. Still, it was a prelude to a deliberate strategy to redraw football's world map, bankrolled by Saudi Arabia's sovereign wealth fund.
Big names continue to flock to Saudi Arabia: Chelsea's N'Golo Kante, Wilfried Zaha, and Liverpool's Roberto Firminho, among others. With rumors of offers reaching as high as $1.9 billion for iconic players like Lionel Messi, it's clear money is no object.
Yet, this isn't a mere splurge on superstars, as seen with China's league or MLS' appeal to veteran players. Saudi Arabia's endeavor is distinct in scale and intent due to its funding source.
Typically, football clubs worldwide are private entities, constrained by revenues and budgets. In Saudi Arabia, the paradigm changed dramatically when the nation's sovereign wealth fund, PIF, took over the "Big Four" clubs. With almost unfathomable financial resources, these clubs can now outbid even top European teams, aiming to elevate the Saudi Pro-League to global preeminence.
The PIF isn't a stranger to high-profile investments. From Disney to Starbucks to Uber, it has actively pursued diversification, seeking to reshape Saudi Arabia's global image.
However, the heart of the controversy is Saudi Arabia's human rights record. Issues like gender inequality, suppression of free speech, and its stance on homosexuality have long been contentious. Yet, as Saudi Arabia funnels wealth into global brands and sports, it's part of a larger strategy — the Vision 2030 project, helmed by Prince Mohammed Bin Salman.
The ambition? Transition Saudi Arabia from an oil-reliant state to a diversified economy and align culturally with Western values.
For Saudi Arabia, football isn't just a sport; it's a multifaceted tool. Domestically, it appeases a young, digitally-savvy population, hungry for Western entertainment, giving them a piece of the action right in their backyard. Hosting global sporting events, from F1 Grand Prix to WWE shows, aims to sedate the growing domestic disquiet over societal disparities.
And, internationally, it's a PR masterstroke.
Elevating the Saudi Pro-League to global standards strengthens their World Cup hosting bid. It also acts as a soft power lever, improving public perception and potentially opening doors for further investment and collaboration.
Undoubtedly, the influx of Saudi money will disrupt the European transfer market. Previously undervalued players now have increased market worth, and clubs can navigate financial constraints by eyeing lucrative sales to the Saudi League.
Read more: Saudi spending has 'changed football transfer market' says Pep Guardiola
The transformation orchestrated by Saudi investment is irreversible. Label it modernization, sportswashing, or both, but its effects will reverberate globally. The paramount question, though, is this: As football becomes a pawn in the grander scheme, will the essence of the sport endure or get lost in the crossfire?
The answer may lie in how football fans, stakeholders, and global communities respond to this seismic shift. For now, the ball is in their court.
For more updates, be with Markedium.