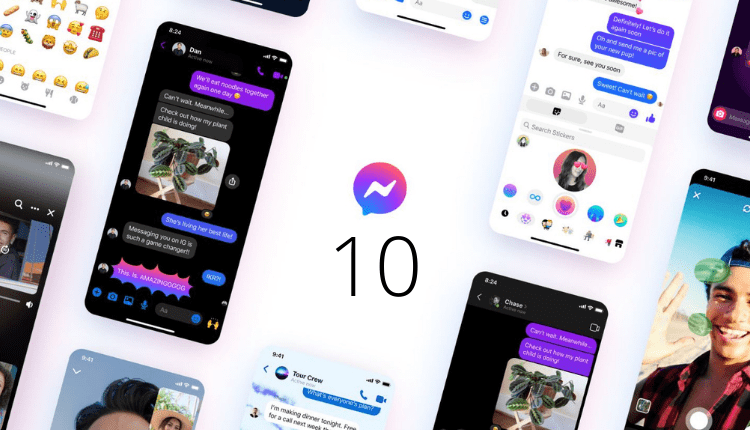 Facebook's Messenger this month hit the Big 10th Birthday! One of the most popular messaging applications just turned into a Middle Schooler, and they're planning to throw what they claim will be an "Epic Birthday Party."
Over the last ten years, just like most 10-year old kids, the application has developed quite a lot; since its launch in 2011. It became the 2nd most popular messaging application, right after WhatsApp (also owned by Facebook). This comes off as a courtesy to the tremendous effort put behind the application to make it stronger, which helped Messenger gain millions of users, putting it on the top 3 messaging platform position.
With hitting the decade milestone, Facebook plans on launching a set of new features to its messenger application, including multiple birthday-themed features all equipped to improve the connectivity of their users. Let's have a look at some of the new features to be/ currently available on Messenger:
Polls | Most Likely To
Taking inspiration from the popular internet trend, " Who's Most likely to," the new Poll feature allows you to play the same game but through a Messenger group thread. If you're not familiar with the game, here's how it works, a situation-based question is asked, and the group members are allowed to select who is most likely to carry it out.
 Questions such as "who is "most likely to give gifts on their own birthday? ", "most likely to fight zombies while everyone else runs away? " and "most likely to miss their flight? ✈️"  and more are going to be available and ready to use. Messenger will also allow personalized prompts to make the game a bit more exciting and engaging.
Birthday Gifts | Using Facebook Pay
 Facebook is already such a great application for those with goldfish memory to keep track of their loved one's Birthdays. How does one make such a great feature any better?
Well, Messenger seems to have found the solution; the new "Birthday Gift" feature allows you to send money to your friends and family through the Facebook Pay App. Moreover, the Birthday gift arrives onto the receiver's message thread already wrapped and with a virtual balloon animation. The only downside of this feature is that it is currently only available for use within the US.
 Birthday Expansion Tools
To curate with the entire Birthday month theme, Messenger, as expected, has created an entire 'Birthday Chat Theme.' Featuring multiple elements that add the party mood to your user experience.
Specially curated sticker packs for "Messenger is 10," and a full Birthday Balloon 360 Background create the birthday vibe. Then there are the notable mentions; the AR birthday effects allow you to blow out candles, and the soundmoji feature allows you to send a catchy Birthday Song.
Sharing Contacts
Messenger has introduced the 'Share Facebook Contacts' feature in the spirit of getting closer and connecting to loved ones. Gone are the days of copy-pasting profile links to share with your contacts. Now you can access the chat thread of the contact you want to share, go into the chat settings, select "more actions," and then tap on "Share Contacts" to share the profile link.
BONUS FEATURES
Lastly, Messenger will be launching Word Effects very soon; this is a bonus feature that they've added into their Birthday extravaganza. The feature allows you to pair a specific word to an emoji. Whenever the word/phrase is used in the chat, it'll cause an emoji explosion, spewing the emoji all around the chat screen.
Pair in the word/phrase with an emoji that has meaning to you and your friends, and create a more engaging chatting experience.
With the pandemic on board and social gathering now a dull Zoom Conference, the additional features really bring to life when your chat with people. A big congrats to Messenger on achieving this decade-long milestone; may they keep up the good work.
For more updates, be with Markedium.