Grameenphone Increased Advertising And Promotion Expense By 10.4% In Q3'21

1

min read
Grameenphone, the largest telecom company in Bangladesh have increased advertising and promotion expense by 10.4% in the first nine months of 2021. Advertising and promotion expense for Q3'21 was Tk 354.2 Mn which was Tk 320.9 Mn in Q3'20.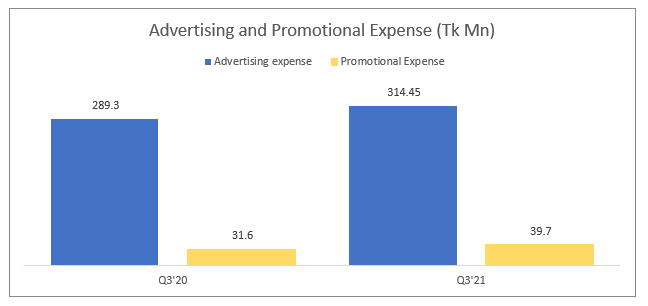 Advertising Expense increased by 8.7% YoY in Q3'21 and Promotional Expense increased by 25.8% YoY. The increase in spending can be attributable to the normalcy of business activities after the reduction of Covid-19 infection.
Grameenphone focused mainly on promoting bundle services during Q3'21 which has proved to be a successful bet. Revenue from bundled services increased by 10x from Q3'20 and by 1.6x from Q2'21.
Revenue of Grameenphone increased by 1.8% YoY to Tk 36,209 Mn in Q3'21 from Tk 35,559 Mn in Q3'20. The growth in revenue is mainly driven by 1.9% YoY growth in subscription & traffic revenues. Profit after tax declined by 3.8% YoY. 1.9% YoY subscription & traffic revenue growth was mainly driven by growth in voice/data bundles & data-only packs.
Mobile subscribers of the company have grown by 7.7% YoY from 77.6 Mn in Q3'20 to 83.6 Mn in Q3'21. About 55.2% of the total subscribers are internet subscribers. Internet subscribers have grown from 42.0 Mn in Q3'20 to 46.1 Mn in Q3'21.
For more updates, be with Markedium.