Bank Asia Encouraging Women Clients by Launching Women ATM Booth

2

min read
Bank Asia has inaugurated Bangladesh's first ATM booth for women at Sonaknada in Keraniganj along with 3 other booths in different places in the city under the same project aiming to encourage females' access to digital transactions and improve financial management.
Read more: Walton Inaugurated a New Series Of Premium Refrigerators
Reportedly, Mr. Adil Chowdhury, the president and MD(CC) of Bank Asia unveiled the ATM booth at Bank Asia DPO Agent Outlet at Sonakanda on Tuesday. After the inauguration, the program turned into a festive mood with the presence of numerous female clients and workers.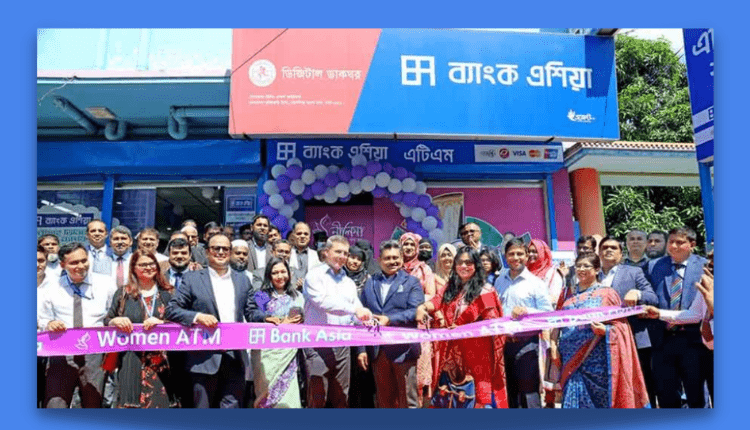 During the ceremony, the MD of the bank reportedly said that Bank Asia has a commitment to bringing more unbanked people into the banking network to help achieve sustainable economic development by boosting financial inclusion across the country.
Read more: BizMaestros 2022 is back with the Thrill of Real Business!
He also reportedly mentioned, "Bank Asia has been working relentlessly to provide services to all segments of society, including rural masses and marginalized people living in the remotest parts of Bangladesh."
Mr. Chowdhury was very optimistic about the new ATM booth for women which would play a pivotal role in encouraging the female segment to digital transactions. Later, the president & MD inaugurated a Women's Corner inside Sonakanda Agent Outlet.
Reportedly, Mr. Mohammad Ziaul Hasan Molla the Deputy Managing Director of Bank Asia; Mr. Jason Lamb the Deputy Director, and Ms. Snigdha Ali the Senior Programme Officer of the Bill & Melinda Gates Foundation were present.
Bill & Melinda Gates Foundation reportedly supported Bank Asia to establish the Women ATM Booth. The aim is to facilitate financial inclusion activities by reinforcing women's empowerment in Bangladesh with a two-year grant-based digital financial inclusion project.
Bank Asia launched three more Women's ATM Booths which are already started operation from that day. Rest 3 Booths are in Begum Badrunnera Govt. Girls College, Kodomtola, and Paris Road City Digital Centre Agent Outlets in Dhaka city.
The bank reportedly aims to make the project bigger by setting up six more Women's ATM Booths all over the country.