Apple Reportedly Threatened To Remove Twitter From The App Store

2

min read
In a series of tweets, Elon Musk accused Apple Inc of threatening to remove Twitter Inc from its app store without explaining why. He also claimed that the iPhone company had halted advertising on the social media network.
Meanwhile, Musk has also joined the chorus of those complaining about Apple's 30% charge on sales made through its App Store, which is the only method for digital content to reach its popular mobile devices.
Musk's tweets contained a meme of a car with his first name on it swerving down a freeway off-ramp labeled "Go to War" instead of going on to "Pay 30%." The wealthy CEO also stated that Apple had "threatened to remove Twitter from its App Store, but has refused to explain why."
Apple did not respond quickly to a request for comment. Social networking services must have adequate procedures for regulating hazardous or abusive content in order to be accepted on the Apple and Google app stores.
However, since taking over Twitter last month, Musk has let off over half of the company's workers, including several employees charged with combating disinformation, and an unknown number of others have voluntarily resigned.
He has also restored previously suspended accounts, including former President Donald Trump's.
"Musk didn't grasp that Twitter itself was a brand, had cachet. Companies no longer want to be affiliated with it. They aren't even concerned with the substance. Twitter is a soiled brand, one that businesses do not want to be connected with. Musk also labeled Apple's App Store transaction charge a "hidden 30% tax."

– Sarah Roberts, an information studies expert at the University of California, Los Angeles, to AFP.
In a New York Times op-ed, Yoel Roth, Twitter's former head of trust and safety who departed after Musk took over, warned that "failure to conform to Apple's and Google's criteria would be disastrous" and risk "expulsion from their app stores."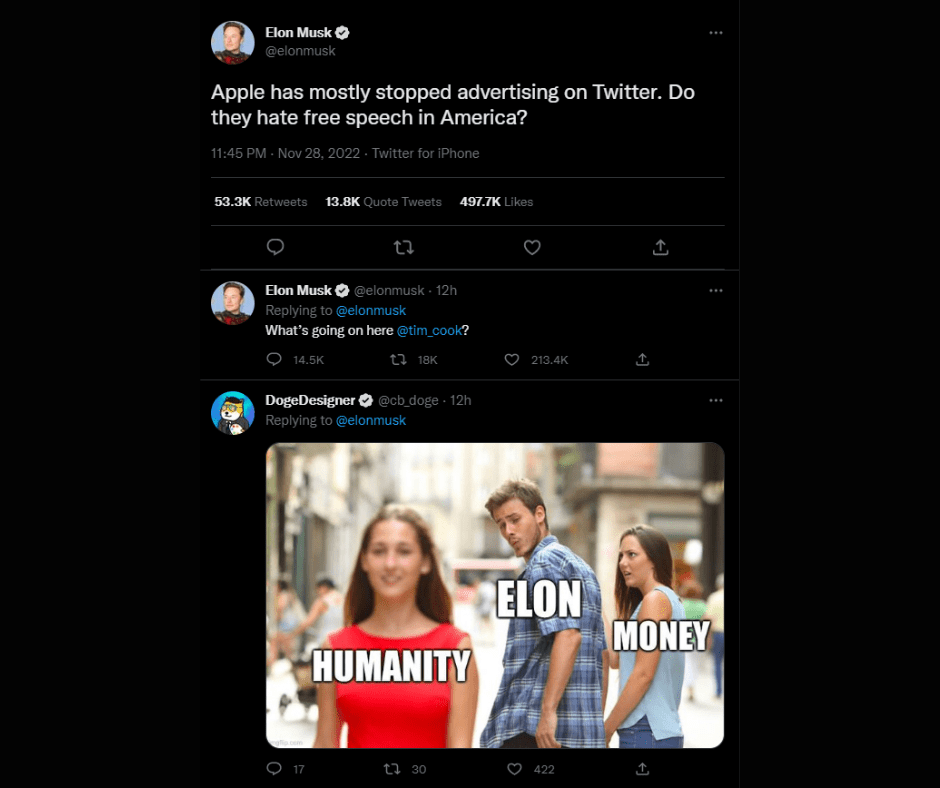 Musk, who describes himself as a "free speech absolutist," believes that Twitter should accept all messages authorized by law and portrayed his actions on Monday as a "revolution against internet censorship in America."
Though Musk maintains that Twitter is seeing record-high engagement with him at the leadership, his approach has startled the company's biggest revenue generator: advertising.
Read more: The House Of Ideaholics, Asiatic MCL Joins By The Network
He uploaded a video from Fortnite creator Epic Games last year that presented Apple as an oppressor in a parody of the legendary "1984" campaign for Macintosh computers. Apple has battled Epic in court, claiming the iPhone manufacturer of maintaining a monopoly in its store for digital products or services.
Last year, a federal judge ordered Apple to relinquish control of its App Store payment alternatives, but Epic failed to establish antitrust breaches had occurred.
For more updates, be with Markedium.