Saif Rashid, Founder & Managing Director Of Apon Bazaar Recognized As One Of The 2023 Meaningful Business 100

2

min read
Saif Rashid, Founder & Managing Director of Apon Bazaar has been named as one of this year's Meaningful Business 100 (MB100), among a global group of leaders combining profit and purpose to tackle the world's most pressing issues, said a press release.
The 5th edition of the award, announced yesterday, recognizes social entrepreneurs, corporate leaders, and impact investors whose work supports the UN Global Goals.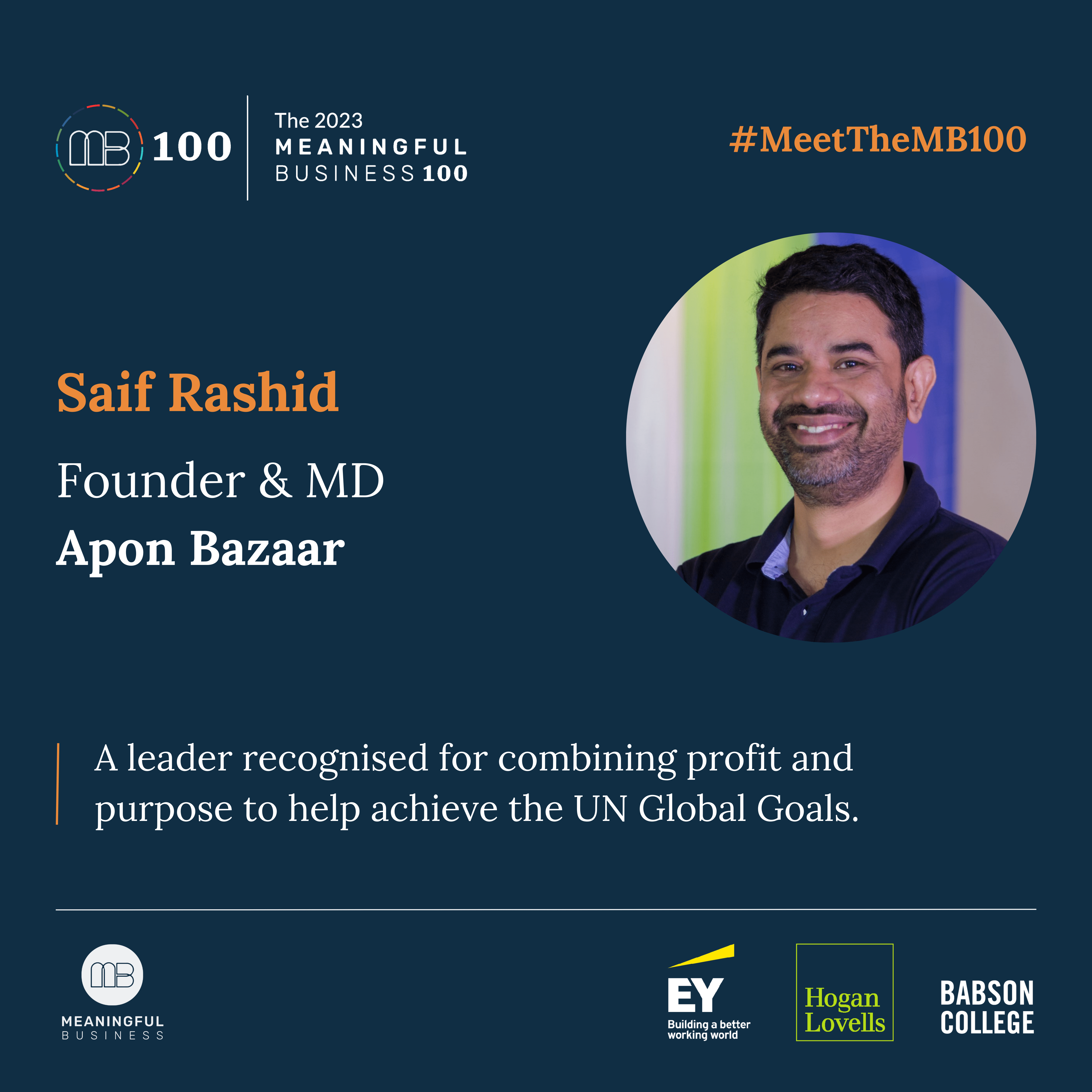 The winners come from 39 countries and were chosen from over 800 nominees in key industries, including technology, healthcare, financial services, recycling, education, and agriculture, added the press release.
Read more: The Indelible Legacy: After Taking Walton Global, Murshed Leaves To Make An Impact In The Furniture Industry
The year-round MB100 program, supported by EY, Hogan Lovells, and Babson College, is designed to help these inspiring leaders increase their positive impact through pro bono services, tailored workshops, expert mentorship, storytelling, and exclusive networking opportunities.
Commenting on the 2023 MB100, Tom Lytton-Dickie, Founder & CEO, Meaningful Business said, "Congratulations to Saif Rashid whose work at Apon Bazaar is an inspiration to us all. We are at a critical juncture in the 2030 agenda and there is a lot of work to be done in order to achieve the Global Goals. Leaders like Saif provide a benchmark in the profit and purpose space, and we look forward to supporting their work as they continue to scale and make a substantial difference."
As one of the MB100 judges, Stasia Mitchell, EY Global Entrepreneurship Leader, added, "Well done to the MB100 class of 2023! It is inspiring to see such strong and impactful social entrepreneurs, sustainability leaders, and impact investors— from over 800 nominations— who are striving to unite purpose and profit to help achieve the UN Global Goals. I look forward to seeing how they continue to disrupt the status quo and build a better working world."
Following a global nomination process, the award was judged by a panel of 29 experts, including Amini Kajunju, COO, Ellen Johnson Sirleaf Presidential Center; Matthias Stausberg, Group Advocacy Director, Virgin; Nikhil Seth, Assistant Secretary-General, UN & Executive Director, UNITAR; Shaun Seow, MD, Investments, Temasek; and Stasia Mitchell, EY Global Entrepreneurship Leader, each nominee was scored across five key areas: Durability, Impact, Innovation, Leadership and Scope.
For more updates, be with Markedium.